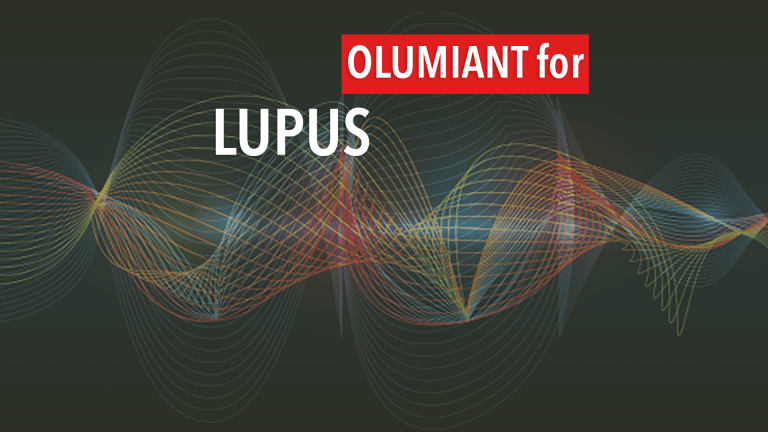 Olumiant Shows Promise for the Treatment of Systemic Lupus Erythematosus
Lancet study highlights promising Initial results evaluating baricitinib as lupus treatment.
by MedMaven Updated 10/2021
Results of a global systemic lupus erythematosus (SLE) Phase 2 clinical trial evaluating Olumiant (baricitinib) were presented at the Annual European Congress of Rheumatology (EULAR 2018) and recently published in The Lancet. The study demonstrated a statistically significant proportion of patients treated with 4 mg of Olumiant achieved resolution of their SLE-related arthritis or rash compared to placebo at week 24, the primary endpoint for the trial.1
About Systemic Lupus Erythematosus
Systemic lupus erythematosus (SLE) is a chronic, multi-organ autoimmune disease that can cause widespread tissue and organ damage.2 SLE is characterized by periods of flare and remission and is associated with a variety of symptoms, including extreme fatigue, unexplained fever, joint pain/swelling and butterfly rash.2,3 Approximately 90 percent of all cases occur in women at a time when life and family demands are greatest.4
About Olumiant (baricitinib)
Olumiant® belongs to a new class of oral medicines called JAK inhibitors. Janus kinases are enzymes that play a role in inflammation. JAK inhibitors block the activity of these enzymes leading to a reduction in inflammation. Olumiant is a once-daily, oral JAK inhibitor currently approved for the treatment of adults with moderately-to-severely active rheumatoid arthritis who have had an inadequate response to one or more (tumor necrosis factor (TNF) inhibitor therapies.4
In the current clinical trial, a total of 314 patients with SLE were treated with either placebo, Olumiant® 2 mg or Olumiant® 4 mg and directly compared. The study found that when compared to placebo, a greater proportion of patients treated with 4 mg of Olumiant® experienced a reduction in pain, lower overall disease activity as measured by the SLE Responder Index 4 (SRI-4) and a greater proportion of patients achieved a state of low disease activity, as measured by the Lupus Low Disease Activity State. Lilly plans to initiate Phase 3 trials to evaluate the safety and efficacy of Olumiant® for the treatment of SLE in the second half of 2018.
Treating Autism: How Omega-3 Fish Oil Helps
Reduced social contact and the performance of repetitive activities are two behavioral traits that are altered in the neurodevelopmental condition known as an autism spectrum disorder (ASD).
References:
[Baricitinib for systemic lupus erythematosus: a double-blind, randomised, placebo-controlled, phase 2 trial](https://www.thelancet.com/journals/lancet/article/PIIS0140-6736(18%2931363-1/fulltext)
Kyttaris VC. Systemic Lupus Erythematosus: From Genes to Organ Damage. Methods in molecular biology (Clifton, NJ). 2010;662:265-283. doi:10.1007/978-1-60761-800-3_13.
Dubois EL, Tuffanelli DL. Clinical Manifestations of Systemic Lupus Erythematosus: Computer Analysis of 520 Cases. JAMA. 1964;190(2):104–111. doi:10.1001/jama.1964.03070150014003
Lupus Foundation of America, Lupus facts and statistics "Please note: If you click this link, you will leave this Lilly website". Accessed on July 27, 2018.