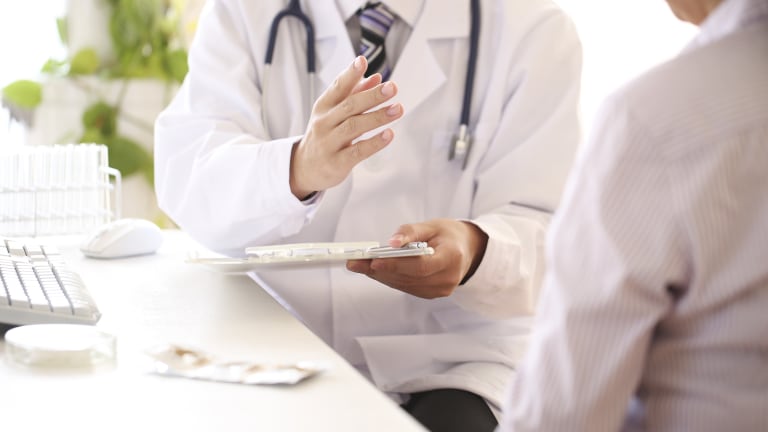 What You Need to Know to Become Empowered
Dr Ellen Field discusses the key elements to empowerment for patients living with chronic disease.
What You Need to Know to Become Empowered
According to Ellen Field, MD, a rheumatologist in private practice in Bethlehem, Pennsylvania, there are several key elements to empowerment for patients living with chronic disease. These involve asking the right questions of your doctor, learning about the drugs you currently take as well other medication options, making healthy lifestyle choices, and building a support network.
Asking the Right Questions
"Patients can only make good choices when they understand and know all the facts," Dr. Field explains. And knowing what questions to ask your doctor is one of the best ways to gather those facts. The types of questions that Dr. Field recommends patients ask include:
How is my treatment plan expected to work?
What are the risks of not treating my condition?
What types of tests do I need before I begin treatment? And do I need tests to monitor my condition while I'm on treatment?
How do I monitor my condition? What signs and symptoms might indicate that my condition is getting worse or that treatment isn't working?
Are there any other diseases or disorders (comorbidities) that I'm at risk for in addition to my primary condition? If so, is there anything I can do to prevent them?
Understanding Your Medication
An important topic to discuss with you healthcare team is your medication. Dr. Field recommends that patients build an understanding the following:
How drugs they are taking work
How several drugs taken together might interact
How the drugs are taken, or administered—such as oral, self-injectable, or intravenous (IV)
Possible side effects or serious adverse events
Also, Dr. Field encourages patients to understand the drug benefits of their health insurance plan and know that their carrier may prefer one drug to another. If that's the case, she says that the carrier may allow the patient to start with the preferred drug with options only if the starting drug isn't effective. "[Patients] need to understand their benefits and realize the doctor has little control if the carrier has identified the options that will be covered," Dr. Field explains.
Making Healthy Lifestyle Choices
In addition to drug therapies, Dr. Field says that for people with chronic disease, healthy living can help "keep the patient's overall health status as good as possible," and in some cases lessen the potential for side effects. "If the patient maintains good health practices," she says, "their immune status may be better able to deal with adverse events." Specific examples of healthy lifestyle choices and their benefits include exercise for improved muscle mass and strength and adequate sleep to help support the immune system's ability to fight infections and the body's ability to control symptoms of chronic disease.
Finding Support
In addition to medical care, you may find that looking to other sources of support helps you manage your condition. In-person support groups for people living with similar health challenges as well as national organizations can assist you in several important areas. "Knowing the local and national support systems empowers patients with more knowledge," Dr. Field says, and theses resources also keep patients updated on topics such as treatment options and side effect management. "Knowledge itself is empowering," she explains, as is having a community of people who understand what you're going through.
You may be able to find in-person groups at your local hospital, and national organizations dedicated to specific diseases and disorders (which are widely available online) can provide information and education and may also connect you with local support.
You Have What It Takes
If you have been diagnosed with a chronic condition and feel, as Marie, did that your life and health is suddenly out of control, know that you have the resources—personal and outside—to become empowered in your own care. Just as Marie looked to her experience as a businesswoman, consider your own strengths and expertise and the steps Dr. Field advises as you manage chronic disease. As well, recognize the resources around you; healthcare professionals, print and online information, and people who are facing similar health challenges can all help you take action to become a practiced patient.