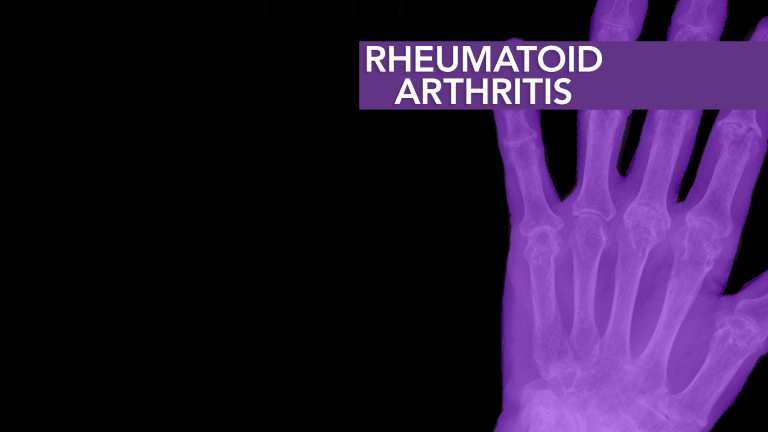 Treatment & Management of Rheumatoid Arthritis
Effective management of RA includes drug therapy, surgery, use of assisted devices, diet and physical therapy.
Medically reviewed by Dr. David Borenstein M.D. updated 5/2021
​Advances in our understanding of rheumatoid arthritis (RA) have led to earlier and more aggressive treatment of this condition. Several different types of RA drugs are available, and decisions about which drug or combination of drugs to use will depend on your particular situation. Your rheumatologist will work with you to develop an individualized treatment plan.
During treatment, make sure that all of your healthcare providers are informed about all of your medications. This includes prescription medications, over-the-counter medications, and dietary supplements. Some products may not be safe to combine with your RA medications.
The goals of therapy for RA are to control inflammation, decrease pain, maintain function, and prevent deformity with the fewest side effects. A therapeutic program will include non-drug and drug components.
Finding the best treatment for RA can take some time and often involves trying different medications and treatment strategies and then assessing how well they are working. Your doctor will monitor your disease activity with a disease activity score (DAS) and the Vectra DA and other blood tests to track symptom relief and joint damage. DAS and Vectra DA can help fine tune treatment on an ongoing basis.
​
​
Drug Therapies for Rheumatoid Arthritis
A wide variety of drug therapies are available for the treatment of RA. The key to success is matching the degree of illness with the corresponding drug. Why not treat RA patients with all the drug categories? Each drug category has associated side effects and physicians want to limit those exposures to a minimum. Essentially, the goal is to take the most appropriate number of medicines associated with the least number of side effects to achieve the best therapeutic response.
Non-steroidal anti-inflammatory drugs (NSAIDs)
NSAIDs, a class of drugs that includes aspirin, can decrease pain, fever, and inflammation. NSAIDs are anti-inflammatory and pain-relieving when given in larger doses long term. In RA, NSAIDs decrease joint stiffness and pain but are often inadequate by themselves to control disease symptoms and improve function.
NSAIDs, work by blocking an enzyme in the body named cyclooxygenase -2 (COX-2), COX -2 produces prostaglandins. Prostaglandins are associated with heat, swelling, and pain associated with tissue injury. In addition to blocking COX-2, most NSAIDs block cyclooxygenase -1 (COX-1). The prostaglandins made by COX-1 help preserve the stomach, lining, regulate kidney function, and maintain normal blood pressure. Nonselective NSAIDS BLOCK BOTH cox-1 and 2. By blocking COX1 and 2 the risk of gastrointestinal bleeding and esophageal reflux are increased. A COX-2 inhibitor, Celecoxib may inhibit COX-2 without affecting COX-1 enzyme decreasing the risk of gastrointestinal toxicities.
NSAIDs fall into a number of different chemical groups. An individual may respond to one and not anther. Any single NSAID may help about 66% of the people who try it. Some individuals have to try 3 or more NSAIDs before finding the one that works.
NSAIDs can be taken by mouth, or used topically as a gel or patch. The downside of topical use is that they may need frequent application up to 4 times a day to be effective. Even though the dose is lower, topical therapies are associated with toxicities similar to the oral form of the NSAID.
Disease-Modifying Agents (DMARDs)
DMARDs are drugs that work more slowly than NSAIDs but have the capability of modifying the progression of disease. These drugs have greater benefit in rheumatoid arthritis. DMARDs do not have a beneficial effect on spinal disease. There are two categories of DMARDs: biologic (created to be similar to proteins found in the body) and non biologic.
Biologic DMARDS
Anti-Tumor Necrosis Factor Inhibitors (TNFi)
Cell messenger or cytokines, are released by cells to initiate a variety of functions. An inflammatory cytokine, TNF is associated with the clinical manifestations of AS. TNF is associated with fatigue, joint swelling, stiffness, and pain. A decrease in the production of TNF, or removal from the blood stream can result in a decrease in disease-associated complaints. However, the total removal of TNF can be associated with an increased risk of infection. The goal of therapy is to obtain a physiologic level of TNF. There are a number of ANTI-TNF therapies available for the treatment of AS including:
Enbrel (entarnercept) is a soluble receptor for TNF injected weekly.
Humira (adalimumab) is a fully human anti-TNF monoclonal antibody administered by injection every 2 weeks.
Simponi (golimumab) is a fully human anti-TNF monoclonal antibody that is injected monthly.
Cimzia (certolizumab) is an anti-TNF partial antibody connected to polyethylene gycol that prolongs the effect of the antibody that is injected every 4 weeks
Remicade (infliximab) is a monoclonal directed against TNF that is administered intravenously every 4 to 8 weeks.
The effectiveness of the TNF therapies shows no benefit of one agent compared to another. The use of specific agents in individuals is based on personal preference related to injections versus infusion and frequency of dosing.
Side effects associated with the use of TNF inhibitors include the activation of latent tuberculosis and increased risk of viral and bacterial infections. If infections occur, the infection is treated and the TNF therapy stopped until the infection is resolved. An increased risk of malignancy has been reported. However the degree of this increase which is reported to be small and is undergoing active evaluation.
The use of specific DMARDs in individuals is mainly based on personal preference related to injections versus infusion and frequency of dosing.
Side effects associated with the use of TNF inhibitors include the activation of latent tuberculosis and increased risk of viral and bacterial infections. If infections occur, the infection is treated and the TNF therapy stopped until the infection is resolved. A small increased risk of certain cancers has also been reported and is undergoing active evaluation.
Selective T-cell Costimulator Inhibitor
Orencia® (abatacept) Activation of lymphocytes requires a sequence of signals. Immune response that results in RA is diminished if these secondary signals are blocked. Orencia® is a fusion protein that inhibits antigen-presenting cells from delivering co-stimulatory signals that activate T cells. Orencia® is administered by monthly infusions or subcutaneous injections.
Interleukin -6 Inhibitors
Inflammation plays a major role in the associated damage to the articular cartilage in RA and IL-6 plays a role in the disease process. IL-6 mediates a wide range of immunologic responses and dysregulation of IL-6 production occurs in the synovial cells of RA patients which can cause persistent inflammation and associated damage to the articular cartilage and underlying bone. (4,5)
Currently Actemra® and Kevzara® are IL-6 receptor antagonists that have been approved by the US Food and Drug Administration (FDA). (6,7) The overall effectiveness of both drugs seems to be comparable.28In addition to the impact on joint symptoms and reducing structural damage, both medications may also improve extra-articular symptoms including fatigue, morning stiffness, anemia, and improve glucose metabolism. (4,13,14)
Actemra® (Tocolizumab) is a humanized monoclonal antibody directed against Interleukin -6 (IL-6), receptors, blocking the effect of IL-6, a cytokine that mediates a portion of the destructive immune response in RA. Inhibition of IL-6 is associated with decreased inflammatory complaints and joint destruction in RA. Actemra® is administered by monthly infusions or subcutaneous injections. Infection and rarely, bowel perforation may occur.
Kevzara (Sarilumab) is a fully human monoclonal antibody directed against IL-6, both soluble and membrane bound. Kevzara is administered as an injection every 2 weeks. Toxicities include infections and lowering of blood counts.
Combination Therapy Several studies have also supported the effectiveness of combination treatment in patients with previous DMARD failure. (9-13) In patients with previous failure of TNF inhibitors, the combination of Actemra with methotrexate was found to be effective. (14) In recent EULAR recommendations for the management of RA, the task force stressed that combination therapy may be more effective for all DMARDs. (8)
Janus Kinase Inhibitors
Xeljanz® (tofacitinib) Janus kinases (Jak) are a series of enzymes that activate lymphocytes resulting in inflammatory responses. Xeljanz® is a small molecule that inhibits Jak 3 and, to a lesser degree, Jak2. Xeljanz® is an orally administered medication taken on a daily basis.
Treating Autism: How Omega-3 Fish Oil Helps
Reduced social contact and the performance of repetitive activities are two behavioral traits that are altered in the neurodevelopmental condition known as an autism spectrum disorder (ASD).
Rituxan® (rituximab)
B-lymphocytes are components of the immune system contributing to the destructive changes of RA. Rituxan® is an antibody combining mouse and human components. The antibody is directed against the CD 20 transmembrane protein on B-lymphocytes. The attached antibody activates an immune response causing destruction of these activated B cells. A decreased number of CD 20 lymphocytes results in diminished activity of RA. Rituxan® is administered by infusion on a regular schedule usually every 6 months
Interleukin-17 (IL-17) inhibitors
Interleukin-17 is a protein produced by immune cells that function as a messenger between cells playing an important role in inflammation. Antibodies that target the IL-17 pathways are used for the treatment of several conditions in which the IL-17 pathway has a role, including AS, psoriasis and psoriatic arthritis. IL-17 therapies include
Cosentyx (secukinumab) is an anti-IL-17 monoclonal antibody that blocks the effects of IL-17 leading to an improvement in IL-17 associated symptoms.
Taltz (ixekisumab) is an anti IL-17 monoclonal antibody that blocks the effects of IL-17.
Side effects associated with the use of IL-17 inhibitors include an increased risk of infections. Another very small risk is the development or worsening of inflammatory bowel disease.
Non-biologic DMARDs
These drugs are frequently used as part of the initial treatment of RA and begin to show benefit in 1-2 months but their full effect may take up to 6 months to become apparent.
Methotrexate
Leflunomide
Sulfasalazine
Hydroxychloroquine
Corticosteroids
Systemic corticosteroids are effective in controlling the inflammatory components of RA. Corticosteroids are the most powerful and predictable remedy inducing immediate relief of joint inflammation in RA. Corticosteroids prescribed in low doses (5 to 10 mg) have a modest effect on reducing the rate of x-ray detected joint destruction. The side effects of corticosteroids include hypertension, diabetes, cataracts, and obesity.
Measuring Disease Activity
Your doctor will work with you to measure the effectiveness of your treatment on a regular basis to insure you get the maximum benefit from treatment and reduce joint damage.
Treatment of Rheumatoid Nodules
Treatment of rheumatoid nodules is typically directed at nodules causing symptoms or functional problems. Injections of glucocorticoids (steroids) may help shrink nodules; sometimes surgery is necessary if rheumatoid nodules become infected or cause severe symptoms.
There is no specific drug therapy directed at treating rheumatoid nodules; however, disease-modifying antirheumatic drugs (DMARDs) can reduce the size of rheumatoid nodules. If nodules are thought to be a result of methotrexate treatment, a change in medication regimen may help; however, this decision must be carefully made on an individual basis.
Non-drug Therapies
Maintenance of maximum motion is a main focus of non-drug therapy for chronic inflammatory conditions affecting the joints and spine. Physical therapy with instruction to do range of motion exercises to maintain function is essential to have a good outcome. Supervised exercises are better than unsupervised exercises in improving pain, stiffness, spinal mobility, and overall well being. In addition, aerobic conditioning activities, such as a stationary bicycle, or walking program, are helpful in maintaining respiratory function and cardiovascular health.
Patient education from health professionals and reliable on-line sources can reinforce important messages involving posture, proper lifting techniques, avoidance of thick sleeping pillows, and the importance of consistent exercise. The correct balance between exercise and rest cannot be overemphasized. Rigorous exercise can exacerbate symptoms. Education about proper nutrition to obtain an ideal weight to minimize stress on weight-bearing joints is also important for an ideal outcome.
Psychological support may be needed for those young patients who realize they have a chronic illness. Some patients believe they are disabled before significant disease manifestations have appeared. Pain, fatigue, joint stiffness can have detrimental effects on interpersonal relationships and work. Learning coping skills are essential to maintain activities of daily living in its many forms.
Complementary Therapies
Complementary therapies are treatments that are used in addition to conventional therapies such as medication. These treatments do not replace conventional therapy, but there's hope that they could improve well-being and ability to function.
Thus far, there is limited evidence that any type of complementary therapy provides a benefit,1 but research in this area is ongoing. Treatments that have shown promise and that warrant additional research include mind-body therapies and certain dietary supplements.[1] Mind-body therapy may provide both physical and psychological benefits by reducing pain, improving physical function, and improving ability to cope. Examples of mind-body therapy are relaxation, meditation, tai chi, imagery, and biofeedback. Acupuncture may also help to manage pain, but there is limited information about its role specifically.
Several types of dietary supplements are also being evaluated. Fish oil supplements, for example, provide omega-3 fatty acids that may be useful at relieving joint tenderness and morning stiffness. Benefits of dietary supplements remain uncertain, and before taking any dietary supplement you should discuss it with your doctor. Some supplements may not be safe to use in combination with other medications or in people with certain health conditions.
Surgery
If joint damage becomes severe, surgery on the affected joint may relieve pain and (in some cases) improve joint function. Joint replacement, for example, involves removing a damaged joint and replacing it with an artificial one. This can reduce pain while also preserving or improving the function of the joint. Another procedure—joint fusion—involves fusing together the bones in a joint. This eliminates the ability of the joint to move, but provides stability and pain relief. Surgery may also be used to repair or remove damaged tissue.(3)
The Hospital for Special Surgery is an excellent resource for information on surgical management for chronic inflammatory conditions.
Understanding Joint Replacement
The Importance of Clinical Trials
Newer approaches to the treatment of RA have improved outcomes for many people but are not effective for everyone. Additional progress in the treatment of RA will come from clinical trials that test new drugs or new ways of managing symptoms or side effects. These studies involve large numbers of RA patients at many locations throughout the United States. Some studies focus on people with newly diagnosed RA, and others focus on people who have persistent symptoms in spite of prior RA treatment. As someone with RA, you may be eligible to participate in one of these studies. To learn more about clinical trials, talk with your rheumatology care team or visit ClinicalTrials.gov.
Promising new treatments that are currently being evaluated in clinical trials include drugs known as kinase inhibitors. Kinases are enzymes that help to relay messages within cells. Some kinases play a role in inflammation and RA, including the JAK (janus kinase) family of kinases and Syk (spleen tyrosine kinase). Drugs that inhibit these kinases may provide an effective new treatment option for RA, AS, PsA and other conditions with the added advantage of being taken orally (by mouth). Other promising new treatment approaches are also being evaluated.
References:
Singh JA, Furst DE, Bharat A et al. 2012 update of the 2008 American College of Rheumatology recommendations for the use of disease-modifying antirheumatic drugs and biologic agents in the treatment of rheumatoid arthritis. Arthritis Care & Research. 2012;64:625-639.
Scott DL, Wolfe F, Huizinga TWJ. Rheumatoid arthritis. The Lancet. 2010;376:1094-1108.
National Institutes of Health, National Center for Complementary and Alternative Medicine. Get the facts: rheumatoid arthritis and CAM. Last updated October 2010.
Yip RML, Yim CW. Role of interleukin 6 inhibitors in the management of rheumatoid arthritis.JCR J Clin Rheumatol. Published online December 24, 2019. doi:10.1097/rhu.0000000000001293
Tanaka T, Narazaki M, Kishimoto T. IL-6 in inflammation, immunity, and disease.Cold Spring Harb Perspect Biol. 2014;6(10):1-16. doi:10.1101/cshperspect.a016295.
Actemra. Prescribing information. Genentech, Inc. May 2020. Accessed August 31, 2020. .
Kevzara. Prescribing information. Sanofi and Regeneron Pharmaceuticals, Inc. April 2018. Accessed August 31, 2020.
Smolen JS, Landewé RBM, Bijlsma JWJ, et al. EULAR recommendations for the management of rheumatoid arthritis with synthetic and biological disease-modifying antirheumatic drugs: 2019 update.Ann Rheum Dis. 2020;79(6):S685-S699. doi:10.1136/annrheumdis-2019-216655
Smolen JS, Beaulieu A, Rubbert-Roth A, et al. Effect of interleukin-6 receptor inhibition with tocilizumab in patients with rheumatoid arthritis (OPTION study): a double-blind, placebo-controlled, randomised trial.Lancet. 2008;371(9617):987-997. doi:10.1016/S0140-6736(08)60453-5
Yazici Y, Curtis JR, Ince A, et al. Efficacy of tocilizumab in patients with moderate to severe active rheumatoid arthritis and a previous inadequate response to disease-modifying antirheumatic drugs: the ROSE study. Ann Rheum Dis. 2012;71(2):198-205. doi:10.1136/ard.2010.148700
Genovese MC, McKay JD, Nasonov EL, et al. Interleukin-6 receptor inhibition with tocilizumab reduces disease activity in rheumatoid arthritis with inadequate response to disease-modifying antirheumatic drugs: the tocilizumab in combination with traditional disease-modifying antirheumatic drug therapy study.Arthritis Rheum. 2008;58(10):2968-2980. doi:10.1002/art.23940
Nishimoto N, Yoshizaki K, Miyasaka N, et al. Treatment of rheumatoid arthritis with humanized anti-interleukin-6 receptor antibody: a multicenter, double-blind, placebo-controlled trial. Arthritis Rheumatol. 2004;50(6):1761-1769. doi:10.1002/art.20303
Strand V, Burmester GR, Ogale S, Devenport J, John A, Emery P. Improvements in health-related quality of life after treatment with tocilizumab in patients with rheumatoid arthritis refractory to tumour necrosis factor inhibitors: results from the 24-week randomized controlled RADIATE study.Rheumatology. 2012;51(10):1860-1869. doi:10.1093/rheumatology/kes131
Ogata A, Kato Y, Higa S, Yoshizaki K. IL-6 inhibitor for the treatment of rheumatoid arthritis: A comprehensive review.Mod Rheumatol. 2019;29(2):258-267. doi:10.1080/14397595.2018.1546357.
Genovese MC, Fleischmann R, Kivitz AJ, et al. Sarilumab plus methotrexate in patients with active rheumatoid arthritis and inadequate response to methotrexate.Arthritis Rheumatol. 2015;67(6):1424-1437. doi:10.1002/art.39093