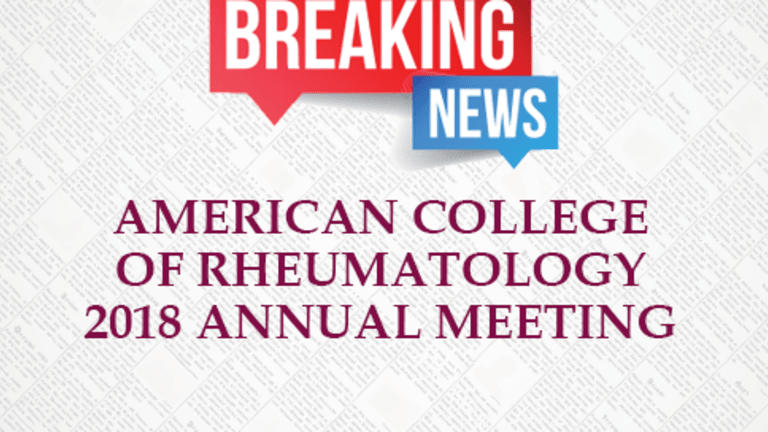 The Earlier Rheumatoid Arthritis Patients Begin DMARD Therapy The Better
New research presented at ACR suggests that delaying DMARD therapy in RA is associated with worse outcomes.
The Earlier Rheumatoid Arthritis Patients Begin DMARD Therapy The Better
by Dr. C.H. Weaver M.D.
​
New research presented at the 2018 American College of Rheumatology Annual Meeting, held October 19-24, in Chicago, Illinois suggests that the earlier newly diagnosed rheumatoid arthritis (RA) patients begin treatment with a disease-modifying anti-rheumatic (DMARD) drug the better.
Researchers reported that individuals with RA who began DMARD therapy within 6 months of symptom onset experienced a greater reduction in disease activity when compared to those delaying therapy.
Investigators reviewed data from a group of DMARD-naïve patients with RA for whom baseline, and 6-month follow-up multidimensional health assessment questionnaire scores were available. Patients were classified as "no delay" (<6 months) or "delay" (>6 months) based on when they began DMARD therapy relative to symptom onset and directly compared.
While both groups of RA patients responded to DMARD therapy and experienced improvements in disease activity, greater improvements were reported in the group that did not delay starting therapy. Overall 46% of these individuals experienced an improvement compared to only 31% who delayed treatment beyond 6 months.
The study results emphasizes the importance of early referral and treatment initiation for newly diagnosed individuals with RA.
Reference
Chua JR, Riad M, Hassan S, Shakoor N, Block JA, Castrejón I. Early versus delayed treatment in patients with rheumatoid arthritis (RA) in routine care at a single academic center: better response according to MDHAQ (MultiDimensional Health Assessment questionnaire) for patients starting treatment in the initial 6 months. Presented at: ACR/ARHP 2018 Annual Meeting; October 19-24, 2018; Chicago, IL. Abstract 600.