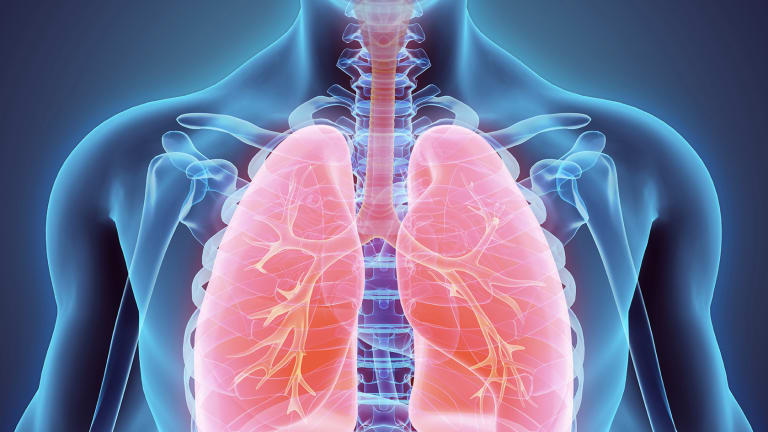 Rituxan Treatment Improves Rheumatoid Associated Interstitial Lung Disease
Research suggest that Rituxan may be a better treatment option than a TNFi for RA associated interstitial lung disease.
Interstitial lung disease (ILD) is detected in up to 60% of patients with rheumatoid arthritis (RA) on high-resolution computed tomography, is clinically significant in 10% of individuals, and is a leading cause of illness and death in patients with RA.(1-6) There are no current FDA approved therapies for RA associated ILD.
Patients RA and ILD often have increased mortality, but studies now suggest that first-line therapy with Rituxan® (rituximab) may help them live longer when compared with the use of tumor necrosis factor inhibitors (TNFi). Research findings presented at the American College of Rheumatology Annual Meeting confirm the results of a previous single-center clinical study demonstrating that treatment with Rituxan® may halt ILD progression in the lungs.
Rheumatoid arthritis is a chronic inflammatory disease that causes pain, stiffness, swelling, and limitation in the motion and function of multiple joints. An estimated 1.3 million Americans have RA, and the disease typically affects women twice as often as men. Although joints are the principal body parts affected by RA, inflammation can develop in other organs as well.
What are the symptoms of rheumatoid interstitial lung disease?
People with RA have a higher risk of lung disease than the general population, and smoking further increases this risk. Interstitial lung disease refers to a group of lung disorders that cause scarring of the lungs. Chest pain and shortness of breath are the most common symptoms. As these disorders worsen, it can become increasingly difficult to breathe and to get enough oxygen into the body. Interstitial lung disease is more common among people with RA than among people in the general population.
Can RA-ILD be Treated?
Research suggests that first-line treatment of RA with Rituxan® may help individuals with RA-ILD live longer .
In the first report, Dr. Yuzaiful and colleagues reported the outcomes of an observational study of patients with RA-ILD. They identified 700 RA patients treated with Rituxan®, 56 of whom had RA-ILD for an overall prevalence of 8%. With the initiation of Rituxan® therapy only 3/700 patients developed ILD resulting in a post Rituxan® ILD incidence of only 0.4%. Importantly, Lung function tests were also improved with Rituxan® therapy. Overall clinically ILD was stabilized in 52%, or improved in 16% of individuals. Progression was reported in 14 (32%).(9)
Because some research has suggested that treatment of RA with TNFi may be linked to the development or worsening of ILD the British Society for Rheumatology actually advised against using TNFi in patients with ILD, but did not make a recommendation concerning the use of Rituxan. In order to evaluate whether Rituxan could benefit patients with RA and ILD, British researchers designed a clinical study to analyze and compare mortality rates among patients with RA-ILD who had started therapy with either Rituxan or a TNFi as their first biologic therapy.(10)
Overall, 353 RA patients were identified in a British registry that also had ILD. Forty-three of these patients were treated with Rituxan and 310 were treated with a TNFi. The researchers determined that the overall mortality risk for the Rituxan treated patients was approximately half that observed in the RA patients treated with a TNFi.
Treating Autism: How Omega-3 Fish Oil Helps
Reduced social contact and the performance of repetitive activities are two behavioral traits that are altered in the neurodevelopmental condition known as an autism spectrum disorder (ASD).
The main message from this study is that the death rates among patients with RA-ILD who started Rituxan as their first biologic therapy was lower compared to patients who started a TNFi.
These studies strongly suggest that Rituxan® be considered an initial treatment option for individuals with RA and ILD.
According to the British study authors "a key to understanding this issue further will be a greater collection of data from patients with this history either separate to or within national registries. This is a rare condition, and without robust studies, guidance on the best choice of therapy to treat the underlying arthritis will remain limited to anecdotal evidence."
 A recent retrospective study has also shown equivalent outcomes for treatment with janus kinase inhibitors (JAKi) and Rituxan.
What Causes Interstitial Lung Disease in RA?
RA-associated ILD (RA-ILD) shares several characteristics with idiopathic pulmonary fibrosis. Because rheumatoid arthritis associated interstitial lung disease and idiopathic pulmonary fibrosis have similar phenotypes researchers have theorized that the gain-of-function MUC5B promoter variant rs35705950 gene which is the strongest risk factor for the development of idiopathic pulmonary fibrosis might also contribute to the risk of ILD among patients with RA.(7,8)
Doctors from Harvard and France have tested the association of the MUC5B promoter variant rs35705950 in RA patients with and without ILD and in individuals without RA and found that the MUC5B promoter variant is over expressed in patients with RA-ILD and associated with an increased risk of developing ILD.(11)
References:
McInnes IB, Schett G. The pathogenesis of rheumatoid arthritis. N Engl J Med 2011;365:2205-2219.
Olson AL, Swigris JJ, Sprunger DB, et al. Rheumatoid arthritis-interstitial lung disease-associated mortality. Am J Respir Crit Care Med 2011;183:372-378.
Bongartz T, Nannini C, Medina-Velasquez YF, et al. Incidence and mortality of interstitial lung disease in rheumatoid arthritis: a population-based study. Arthritis Rheum 2010;62:1583-1591.
Koduri G, Norton S, Young A, et al. Interstitial lung disease has a poor prognosis in rheumatoid arthritis: results from an inception cohort. Rheumatology (Oxford) 2010;49:1483-1489.
Gabbay E, Tarala R, Will R, et al. Interstitial lung disease in recent onset rheumatoid arthritis. Am J Respir Crit Care Med 1997;156:528-535.
Hyldgaard C, Hilberg O, Pedersen AB, et al. A population-based cohort study of rheumatoid arthritis-associated interstitial lung disease: comorbidity and mortality. Ann Rheum Dis 2017;76:1700-1706.
Helling BA, Gerber AN, Kadiyala V, et al. Regulation of MUC5B expression in idiopathic pulmonary fibrosis. Am J Respir Cell Mol Biol 2017;57:91-99.
Seibold MA, Wise AL, Speer MC, et al. A common MUC5B promoter polymorphism and pulmonary fibrosis. N Engl J Med 2011;364:1503-1512.