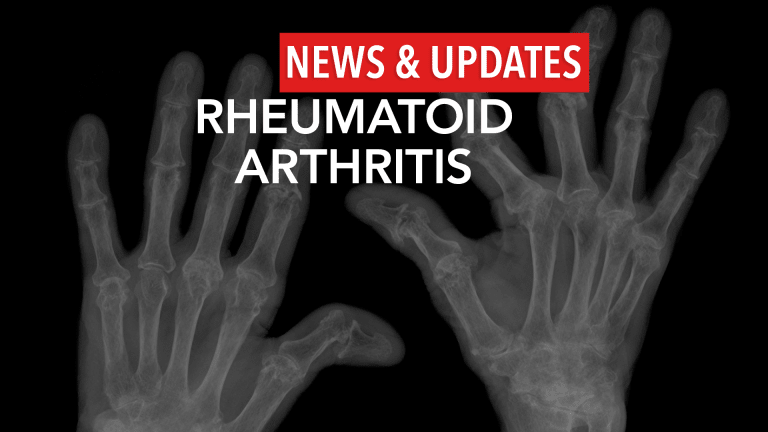 Rinvoq a JAK-1 Inhibitor - Advances Management of Rheumatoid Arthritis
Rinvoq (Upadacitinib) JAK inhibitors are useful for treatment of Rheumatoid Arthritis - FDA Approved
by Dr. C.H. Weaver M.D. updated 2/2021
Upadacitinib ABT-494, is a JAK-1 inhibitor which had been reported to be effective for the management of newly diagnosed and refractory moderate-to-severe rheumatoid arthritis (RA) in clinical studies was approved by the US Food and Drug Administration for the treatment of moderate to severe RA in Dec 2019. It will be marketed as Rinvoq.
Janus-associated kinase 1 (JAK1) inhibitors mediate the signaling of cytokines and growth factors important for blood cell production and immune function. Jakafi® (ruxolitinib) a JAK 1 inhibitor is currently approved for the treatment of some Myleoproliferative Neoplasms.
In rheumatism, however, they are responsible for inflammatory responses. These are curbed by JAK inhibitors. There are two other JAK inhibitors (tofacitinib and baricitinib), which are also used for treating RA – but mostly as combination therapy with the standard therapy methotrexate.
Rinvoq Compared to Humira in Methotrexate Refractory RA
Rinvoq (Upadacitinib) has been compared to Humira (adalimumab) and placebo in rheumatoid arthritis after an inadequate response to methotrexate and shown to be superior.
A total of 1629 patients were randomized once daily Rinvoq 15mg and directly compared to Humira 40mg, every other week while remaining on methotrexate. The ACR20 and DAS28CRP <2.6 were evaluated at Week12 and inhibition of radiographic progression was evaluated at Week 26 from initiation of therapy.
UPA was superior to ADA and PBO at Week 12:
ACR20: UPA 71% vs. ADA 64% vs. PBO 36% (p≤0.001 UPA vs PBO; p< 0.5 UPA vs ADA).
DAS28CRP <2.6 UPA 29% vs. ADA 18% vs PBO 6%.
ACR50: UPA 45% vs. ADA 29% vs. PBO 15%
ACR70: UPA 25% vs. ADA 13% vs. PBO 5%
DAS28CRP≤3.2 (LDAS): UPA 71% vs. ADA 64% vs. PBO 36%
Radiographic progression was less and observed in fewer patients receiving Rinvoq versus placebo and similar to that seen with Humira. Side effects were similar except Rinvoq treated patients had more cases of herpes zoster. 
Rinvoq in Refractory RA
Blocking the JAK pathway also appears important for treating the immune response in RA and investigators have begun to report results. AbbVie initially released some early results from their Balance I and II clinical studies evaluating
In the BALANCE-I study, 276 RA patients who had previously had an inadequate response to one or more tumor necrosis factor (TNF) inhibitors received one of four doses of Rinvoq or placebo for 12 weeks. A 20% or greater improvement was seen in a significant proportion of patients in all dosage groups compared to those treated with placebo.
In the BALANCE-II study, 300 RA patients who had experienced an inadequate response to methotrexate were given one of five doses of Rinvoq for 12 weeks, and a significant improvement was reported in all but the lowest dose group.
Rinvoq has the potential to become a useful treatment option for some of the most challenging RA patients, those that have an inadequate response to TNF drugs.
Overall Rinvoq was generally well tolerated and he most common reported side effect was headache, which was reported by fewer than 5% of patients.
In another study 600 RA patients were treated with different doses of Rinvoq and compared. At the daily dose of 15 mg, more than one third of RA patients achieved low disease activity, and, at 30 mg, the proportion was nearly 50%. Overall 12.5% treated at the low dose and around 20% on the higher dose achieved a sustained remission - defined as the complete disappearance of disease activity.
Treating Autism: How Omega-3 Fish Oil Helps
Reduced social contact and the performance of repetitive activities are two behavioral traits that are altered in the neurodevelopmental condition known as an autism spectrum disorder (ASD).
Results from the 5 studies used for the FDA Approval showed the following:
Fifty-two percent of methotrexate-naïve patients treated with Rinvoq achieved a reduction in symptoms compared to 28% of methotrexate treated patients at week 12 of therapy.
Seventy-one percent of patients with an inadequate response to methotrexate treated with Rinvoq plus methotrexate achieved a response to treatment vs 36% treated with placebo plus methotrexate at week 12.
Sixty-four percent of patients who had an inadequate response to conventional DMARDs (cDMARDs) treated with Rinvoq plus cDMARDs responded to treatment vs 36% treated with placebo plus csDMARDs at week 12.
Sixty-five percent of patients who had an inadequate response or intolerance to biologic DMARDs treated with Rinvoq plus cDMARDs responded to treatment vs 28% treated with placebo plus cDMARDs at week 12.
In addition, a higher proportion of patients treated with Rinvoq alone or in combination with cDMARDs achieved clinical remissions compared with methotrexate or placebo in 2 of the studies. Moreover, treatment with Rinvoq inhibited the progression of structural joint damage when compared with placebo plus cDMARDs or methotrexate monotherapy, respectively.
Rinvoq Superior to Methotrexate in Untreated RA
Rinvoq monotherapy, at 15 or 30 mg daily, significantly improves outcomes compared with weekly methotrexate, according to data published in Arthritis & Rheumatology.
To analyze the effect of Rinvoq monotherapy among patients with RA who have had little or no exposure to methotrexate researchers conducted the SELECT-EARLY clinical trial. Overall 947 RA patients, were treated with weekly methotrexate, or daily Rinvoq at two different doses and directly compared.
The primary endpoints were the proportions of patients achieving 50% or greater response in the American College of Rheumatology (ACR) criteria at week 12, as well as the proportion of participants demonstrating a 28joint Disease Activity Score, including C reactive protein (DAS28-CRP), of less than 2.6 at week 24. A total of 840 participants completed 24 weeks of treatment.
Just over 50% of individuals treated with either dose of Rinvoq responded to treatment at week 12, compared with 28% of those treated with methotrexate. The study demonstrates that Rinvoq is more effective than methotrexate in the first line setting.
Rinvoq Superior to Orencia in Rheumatoid Arthritis Study
Results from the phase 3 SELECT-CHOICE study comparing treatment with Rinvoq™ to Orencia (abatacept) in adults with moderate to severe RA were presented at the 2020 Annual European E-Congress of Rheumatology (EULAR) and demonstrated that 30% of Rinvoq treated patients attained a clinical compared to only 12% of those treated with Orencia. Improvements in disease activity and clinical remission were maintained through week 24. (3)
The most common treatment-emergent adverse reactions reported in clinical trials included upper respiratory tract infections, nausea, cough, and pyrexia. Rinvoq carries a Boxed Warning regarding the risk of serious infections, malignancy, and thrombosis.
Use of Rinvoq in combination with other JAK inhibitors, biologic DMARDs, or with potent immunosuppressants such as azathioprine and cyclosporine is not recommended.
Question should doctors rethink treatment sequence?
This treatment option is so important because RA patients are initially treated with the standard anti-rheumatic agent methotrexate for six months, and indeed many of them respond very well to this. However, if they do not respond and no remission or at least reduction in disease activity can be achieved, they are given a combined treatment of methotrexate and a biologic agent – frequently anti-TNF, such as e.g. Humira, administered by injection, which involves risk factors.
Reference:
Upadacitinib as monotherapy in patients with active rheumatoid arthritis and inadequate response to methotrexate (SELECT-MONOTHERAPY): a randomised, placebo-controlled, double-blind phase 3 study." Josef Smolen, Aileen Pangan, Paul Emery, William Rigby, Yoshiya Tanaka, Juan Ignacio Vargas, Ying Zhang, Nemanja Damjanov, Alan Friedman, Ahmed Othman, Heidi Camp, Stanley Cohen. Published Online May 23, 2019. http://dx.doi.org/10.1016/S0140-6736(19)30419-2.
Efficacy and Safety of Upadacitinib Versus Abatacept in Patients With Active Rheumatoid Arthritis and Prior Inadequate Response or Intolerance to Biologic Disease-modifying Anti-rheumatic Drugs (SELECT-CHOICE): A Double-Blind, Randomized Controlled Phase 3 Trial. 2020 EULAR E-Congress; SAT0151.