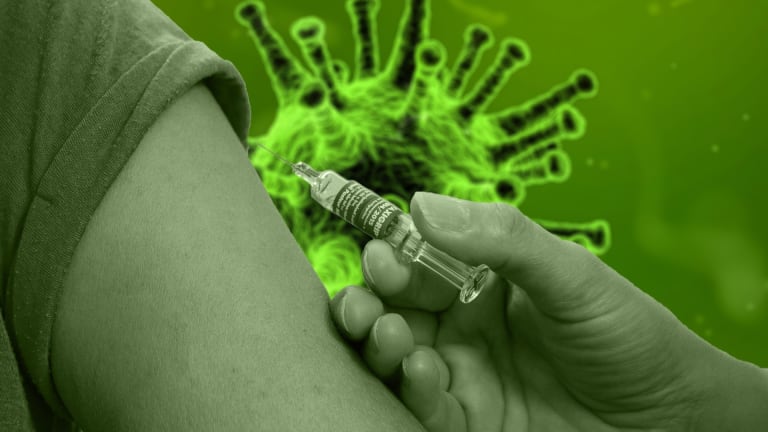 Rheumatic Disease Therapy and COVID-19 Vaccination - What You Need to Know
The Potential Effect of Rheumatic Disease Therapy and the Efficacy of COVID-19 Vaccinations-ACR Guidelines released.
Rheumatic disease, like rheumatoid arthritis (RA) and ankylosing spondylitis (AS) are the result of a disordered immune system that decides to fight its host versus the outside world which consists of a variety of biologic invaders including bacteria, fungi, and viruses. The goal of rheumatic disease therapy is to suppress the overactive immune system while maintain its ability to fight off infectious agents.
Vaccines are a means of stimulating the immune system to identify these foreign invaders more effectively. Vaccines have the ability to prevent or ameliorate the severity of a wide range of infectious diseases. On a yearly basis, vaccines directed against specific types of the influenza virus are administered to rheumatic disease patients. 
COVID vaccine answers for rheumatic disease patients
At the end of 2020, mRNA vaccines directed against the COVID-19 virus were approved for inoculation. mRNA vaccines result in the replication of the spike protein of COVID-19 virus to which the recipient develops an immune response. This process requires the production of viral proteins and the natural sequence of immune cells to identify the viral protein and generate neutralizing antibodies to the virus. In rheumatic disease patients, the suppressing effect of rheumatic disease therapy on the underlying illness while allowing the most robust response to the vaccine must be considered.
Researchers from, Israel, presented data at the EULAR 2021 Virtual Congress describing their experience with the Pfizer-BioNTech COVID-19 vaccine in 686 prospectively enrolled autoimmune inflammatory rheumatic disease patients. These patients, with a variety of different diseases including RA, PsA, axSpA, SLE, IIM, and vasculitis, all had serum IgG antibody levels against SARS-CoV-2 spike S1/S2 proteins measured 2-6 weeks after their second vaccine dose.
Overall, 86% of these patients were able to achieve effective antibody levels compared to 100% of 121 healthy controls. Not all patients were able to mount an immune response equally well. Patients with myositis and ANCA-associated vasculitis fared particularly badly, possibly because these diseases are often treated with rituximab, a therapy conferring a markedly reduced antibody immunogenic response compared to healthy controls. It was notable that immunogenicity in patients who had been treated with rituximab became more likely the longer after rituximab treatment they received their vaccination, with the first 90 days demonstrated to be particularly problematic. Patients prescribed mycophenolate and abatacept also had impaired responses, and to a lesser extent patients taking corticosteroids also demonstrated impaired capacity for immunogenicity.4
Study results involving influenza vaccine suggest that rheumatic disease drugs that have a specific effect on cellular components of the immune system should be held for a short period of time to maximize the benefit of the inoculation. In a Korean study, methotrexate was held for 2 or 4 weeks during the time of influenza inoculation.1 Both groups had a superior amount of anti-influenza antibody (75%) versus no modifications of dose (54%). However, the group that held methotrexate for 4 weeks had an increased level of flares compared to the 2 week group. Therefore, the recommendation was to hold methotrexate for week before and 1 week after the influenza vaccine injection. Another drug that profoundly affects the number of immune cells is Rituximab. Rituximab is usually administered on a 6 month interval. Studies suggest that vaccinations like influenza should be given 2 weeks before the next scheduled dose of Rituximab.
A frequently asked question by rheumatic disease patients concerns receiving the currently available mRNA COVID-19 vaccines and should rheumatic disease therapy be modified when the vaccine is administered. The COVID-19 vaccines have not been studies for an adequate period of time to have definitive information. However, the mechanism by which the vaccine is effective does require some element of cellular immunity to manufacture neutralizing antibody. Therefore, the recommendations regarding methotrexate and Rituximab in the setting of influenza vaccine have been applied to COVID-19 vaccinations. Further evaluation will be needed to determine in rheumatic disease patients receive the 95% level of efficacy demonstrated in the study population which was used to get the vaccinations approved by the Food and Drug Administration.
General Considerations Related to COVID-19 Vaccination in Patients with Rheumatic Disease
On February 10th the American College of Rheumatology updated clinical "guidelines" developed by their "COVID-19 Vaccine Clinical Guidance Task Force" which are summarized as follows:
Based on individual risk for COVID-19, patients should be prioritized for vaccination before the non-prioritized general population of similar age and sex.
Beyond known allergies to vaccine components, there are no known additional contraindications to COVID-19 vaccination for patients with Rheumatic diseases.
The expected response to COVID-19 vaccination for many patients on systemic immunomodulatory therapies is likely to be blunted in its magnitude and duration compared to the general population.
A theoretical risk exists for disease worsening following COVID-19 vaccination. However, the benefit of COVID-19 vaccination patients outweighs the potential risk.
Patients should receive COVID-19 vaccination, consistent with the age restriction of the FDA approval.
Patients who are on immunomodulatory therapy should be vaccinated in a similar fashion as described in this guidance for patients receiving those same treatments.
Following COVID-19 vaccination patients should continue to follow all public health guidelines regarding physical distancing and other preventive measures.
While vaccination would ideally occur in the setting of well-controlled disease, except for those patients with life- threatening illness COVID vaccination should occur as soon as possible for those for whom it is being recommended, irrespective of disease activity and severity.
Medication Specific Guidance Related to Vaccination and Immunomodulatory Therapies
Hydroxychloroquine; IVIG; glucocorticoids, prednisone-equivalent dose <20mg/day No modifications to either immunomodulatory therapy or vaccination timing.
Sulfasalazine; Leflunomide; Mycophenolate; Azathioprine; Cyclophosphamide (oral); TNFi; IL-6R; IL-1; IL-17; IL-12/23; IL-23; Belimumab; oral calcineurin inhibitors; Glucocorticoids, prednisone-equivalent dose ≥ 20mg/day No modifications to either immunomodulatory therapy or vaccination timing.
Methotrexate - Hold MTX 1 week after each vaccine dose, for those with well- controlled disease; no modifications to vaccination timing.
JAKi - Hold JAKi for 1 week after each vaccine dose; no modification to vaccination timing
Abatacept SQ - Hold SQ abatacept both one week prior to and one week after the first COVID-19 vaccine dose (only); no interruption around the second vaccine dose.
Abatacept IV - Time vaccine administration so that the first vaccination will occur four weeks after abatacept infusion (i.e., the entire dosing interval), and postpone the subsequent abatacept infusion by one week (i.e., a 5-week gap in total); no medication adjustment for the second vaccine dose.
Cyclophosphamide IV Time CYC administration so that it will occur approximately 1 week after each vaccine dose, when feasible.
Rituximab - Assuming that patient's COVID-19 risk is low or is able to be mitigated by preventive health measures (e.g., self-isolation), schedule vaccination so that the vaccine series is initiated approximately 4 weeks prior to next scheduled rituximab cycle; after vaccination, delay RTX 2-4 weeks after 2nd vaccine dose, if disease activity allows.
ACR guidance statements are not intended to supersede the judgement of rheumatology care providers nor override the values and perspectives of their patients. Guidance was based on weak and/or indirect evidence and required substantial extrapolation by an expert task force. All statements, therefore, should be considered conditional or provisional. The ACR is committed to updating this guidance document as new evidence emerges.
Updated April 24,2021 Full Summary Here
References:
Park JK et al. Effect of methotrexate discontinuation on efficacy of seasonal influenza vaccination in patients with rheumatoid arthritis: a randomized clinical trial. Ann Rheum Dis 2917;76(9):1559-1565
Van Assen S et al. Humoral responses after influenza vaccination are severely reduced in patients with rheumatoid arthritis treated with rituximab. Arthritis Rheum 2010;62(1):75-81
Day AL et al. The effect of disease-modifying antirheumatic drugs on vaccine immunogenicity in adults. Clev Clin Med 2020;87:695-703
Furer V et al. 'Immunogenicity and safety of the BNT162b2 mRNA COVID-19 vaccine in adult patients with autoimmune inflammatory rheumatic diseases and general population: a multicenter study' https://ard.bmj.com/content/80/Suppl_1/200