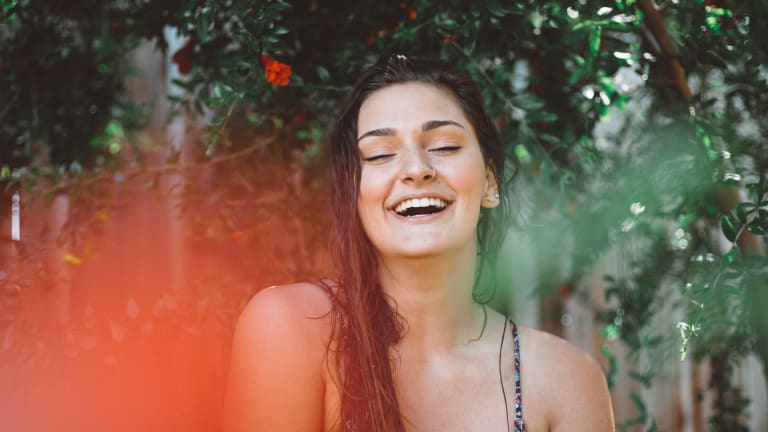 Living with Arthritis: Laughter Matters
Laughter offers significant physical & emotional benefits for those living with chronic illness - 5 Benefits of Laughter
by Iris Zink, MSN, NP
I learned early on about the therapeutic benefits of humor. My three older sisters raised me; when I was about five, my older sister, Kim, took me to the doctor, and I had to get blood drawn. I was upset, and Kim started wiggling her ears. I had no idea she could do that, and I started laughing—happily distracted from the needle at hand.
Kim taught me in that moment, and in many others that followed as I grew up, that in stressful situations the best thing to do is use laughter to break the tension. Laughing in the face of stress became our mantra, and I saw the benefit of using humor as a coping mechanism.
When I began working as a rheumatology nurse and developed relationships with patients who live with chronic autoimmune diseases, I started to think about how I might be able to use laughter to help my patients release tension and manage their pain. I knew that for these patients, for whom every day presents significant challenges, finding healthy coping strategies is essential.
Interested to learn more about how I could incorporate humor and laughter therapy, I did a literature search and dug up every article related to pain and laughter that I could find. As I did I was fascinated by the extensive range of studies and patient experiences that spoke to the powerful role that laughter can play in improving patients' well-being, physically and emotionally.
As I learned more about humor and laughter therapy, I began trying different jokes and different approaches with patients; while some patients didn't want to participate, others benefitted. And, perhaps most surprising to me, I noticed that some patients would actually come into the office and try to make me laugh—hu­mor had clearly become their way of coping with having multiple autoimmune diseases (see sidebar "Tips from Those Who Know").
As a nurse, the best part of my day is getting to know my patients. I am proud to know the details of their lives and, in turn, to share my experiences and build relationships over many years. I continue to see laughter—and humor generally—as a significant tool for those facing the ongoing challenge of chronic illness. The fol­lowing list provides insight into five of the most significant benefits of laughter for those facing chronic disease.
5 Benefits of Laughter
Relieves Pain
Laughter increases dopamine and lowers Substance P, which is known to be a potent pain amplifier. Editor and journalist Norman Cousins discussed in detail the power of positive thoughts—and laughter specifically—to reduce physical symptoms in his book Anatomy of an Illness: As Perceived by the Patient. Cousins, who suffered from a debilitating form of arthritis called ankylosing spondyli­tis, found that 10 minutes of belly laughter gave him two hours of pain-free sleep. A growing body of research into the powerful role that humor can play in pain manage­ment exists today, describing the therapeutic effect of laughter.1
Relieves Anxiety and Stress
Laughter reduces stress hormones, thereby giving the body the ability to relax. Laughter also mitigates depression.2
Reduces the Occurrence of Heart Attack and Stroke
According to a 2005 study conducted at the Universi­ty of Maryland,3 patients who watch humorous movies have more-pliable blood vessels compared with those who watch depressing movies; healthy blood vessels can con­strict and relax more effectively. Increased vessel elasticity allows the body to naturally compensate for fluctuations in blood pressure, which reduces an individual's risk of heart attack and stroke.
Reduces the Pro-inflammatory Enzymes in Rheumatoid Arthritis
Laughter reduces the pro-inflammatory cytokines in rheu­matoid arthritis.4 Cytokines are like my teenage daugh­ters: they are hormonelike proteins that are constantly in communication with other hormonelike proteins, draw­ing them into the drama. With a reduction of pro-inflam­matory cytokines, patients have less joint swelling, stiff­ness, and pain.
Lowers Heart Rate and Blood Pressure
Meditation, focused breathing, and laughter have been shown to reduce blood pressure and heart rate. A study investigating the impact of laughter yoga, which com­bines laughter exercises with gentle stretching and fo­cused breathing, found that the practice, created by Madan Kataria, MD, can "significantly lower systolic and diastolic blood-pressure levels, as well as bring about significant reductions in the stress hormone cortisol."
More Tips from Those Who Know
As a rheumatology nurse, I have had the opportunity to build meaningful relationships with many of my patients over the years, as we work together to manage their conditions. Three of my patients—Ginny, Connie, and Peggy—offered up tips for maintaining quality of life as you live with chronic illness.
Despite living with significant daily health challenges, these ladies amaze me. They are all givers—they vol­unteer, garden, act, and teach: Ginny volunteers at the Make-A-Wish Foundation and has had granulomatosis with polyangiitis, renal cell cancer, and osteoporosis; Connie teaches theater at the local community col­lege and has had psoriatic arthritis and systemic lupus for years; Peggy, who has mixed connective tissue dis­ease of lupus and rheumatoid arthritis, has had years of chronic pain, yet she makes pies, tends a garden, and makes people laugh. Here are their tips:
Recognize the connection between the disease and your feelings.
Avoid frustration with the simple things.
Look forward to every day.
When you are overwhelmed, remember that even one small positive choice or action can make a difference in how you feel.
Make a pie.
Tend a garden.
Get a dog.
Keep pity parties short and under control.
Embrace joy in whatever time you have; don't sweat the small stuff.
Keep a happiness toolbox, which might include a list of movies that you know will lift you up, funny or inspiring books (Tina Fey's Bossypants, for example), affirmation lists, and motivational cards.
​
References
Weisenberg M, Tepper I, Schwarzwald J. Humor as a cognitive technique for increasing pain tolerance. Pain. 1995;63:207-21.
Berk LS, Tan SA, Fry WF, et al. Neuroendocrine and stress hormone changes during mirthful laughter. The American Journal of the Medical Sciences. 1989;298(6):390-96.
School of Medicine Study Shows Laughter Helps Blood Vessels Function Bet­ter [news release]. University of Maryland Medical Center website. Available at: http://umm.edu/news-and-events/news-releases/2005/school-of-medicine-study-shows-laughter-helps-blood-vessels-function-better.
Matsuzaki T, Nakajima A, Ishigami S, Tanno M, Yoshino S. Mirthful laugh­ter differentially affects serum pro- and anti-inflammatory cytokine levels depending on the level of disease activity in patients with rheumatoid arthritis. Rheumatology. 2006;45(2):182-86.
Chaya MS, Kataria M, Nagendra R, et al. The effects of hearty extended unconditional (HEU) laughter using laughter yoga techniques on physiological, psychological, and immunological parameters in the workplace: A random­ized control trial. Paper presented at: American Society of Hypertension 2008 Annual Meeting; May 14, 2008; New Orleans, LA.
https://www.umms.org/ummc/news-and-events/news-releases/2005/school-of-medicine-study-shows-laughter-helps-blood-vessels-function-better.