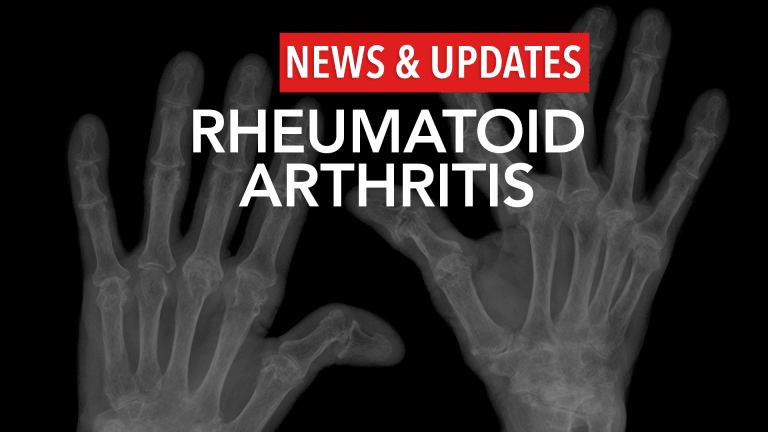 JAK1 Inhibitors Looks Promising for Treatment of Rheumatoid Arthritis
Several JAK inhibitors are now available for treatment of Rheumatoid Arthritis.
by Dr. C.H. Weaver M.D. updated 8/2019
Several reports have confirmed the effectiveness of JAK inhibitors for the treatment of rheumatoid arthritis (RA). (1-10)
The US Food and Drug Administration (FDA) approved the third JAK inhibitor for use in RA in August 2019. Rinvoq (upadacitinib) was approved for the treatment of adults with RA with moderately to severely active disease who either not responding to, or intolerant of, methotrexate (MTX). The drug may be used with MTX or other DMARDs but should not be combined with other JAK inhibitors or biologic agents.
Janus-associated kinase 1 (JAK1) inhibitors mediate the signaling of cytokines and growth factors important for blood cell production and immune function. Jakafi® (ruxolitinib) was the first JAK 1 inhibitor approved for the treatment of some Myleoproliferative Neoplasms. Blocking the JAK pathway also appears important for treating the immune response in RA and investigators have begun to report results.
Oluminant (barcitinib) - approved by the US FDA for the treatment of RA.
Rinvoq (upadacitinib (ABT-494) - approved by the US FDA for treatment of RA
Filgotinib - a new drug application is being filed with the US FDA.
About Oluminant (baricitnib)
Oluminant belongs to a new class of oral medicines called Jak inhibitors. Janus kinases are enzymes that play a role in inflammation and RA. Jak inhibitors like Oluminant block the activity of these enzymes leading to a reduction in inflammation.
Researchers initially reported in the the New England Journal of Medicine that Oluminant produced a 55% response in a cohort of 527 patients with refractory RA, compared with 27% of those given a placebo.(1)
The mean age of study participants was 56, average disease duration was 14 years, and 80% were women. They had moderate to severely active disease, with baseline swollen and tender joint counts of 17 and 29, respectively. Each participant had undergone one to several previous conventional therapies and/or biologic agents.
Participants were treated with either 2 mg or 4 mg of Oluminant each day or a placebo, plus conventional therapies including DMARDs, non-steroidal anti-inflammatory drugs, and 10 mg prednisone or less per day and directly compared.
In addition to the improved response rate, patients receiving the 4-mg dose of Oluminant also had significantly greater improvements in the disease activity score in 28 joints at week 12 and for a Health Assessment Questionnaire Disability Index.
These results were consistent with two previous clinical studies demonstrating significant improvements of Oluminant in individuals with refractory RA. (2,3). The US Food and Drug Administration approved Oluminant at the lower dose of 2 mg per day for use in adults with with moderate-to-severe active RA who have had an inadequate response to commonly-used treatments known as TNF inhibitors.
This follows the Arthritis Advisory Committee meeting of April 23rd, wherein the committee only recommended the lower 2mg dose (not the proposed 4 mg dose) and expressed concerns about some safety signals, especially with regard to venous thromboembolic events (VTE).
Currently Oluminant is approved in over 40 countries at both the 2 mg and 4 mg doses.
About Filgotinib
A small clinical study in moderate-to-severely active RA and a prior inadequate response or intolerance to biologic agents evaluated once-daily filgotinib 100mg, 200mg, or placebo for 24 weeks. Overall approximately twice as many patients treated with filgotinb responded to treatment. The proportion of patients who achieved a clinical remission was also significantly higher in the filgotinib groups.
Filgotinib was further evaluated between July 2016 and June 2018 at 114 locations around the world in patients with moderately to severely active RA resistant to previous therapy with biologic agents and found to be very effective at controlling the disease according to the results of a clinical trial published in the July 23/30 issue of the Journal of the American Medical Association.(6)
The clinical trial evaluated a total of 449 adult patients with moderate to severely active RA and an inadequate response or intolerance to at least one previous biologic disease-modifying antirheumatic drug (bDMARD) who were treated with one of two filgotinib doses or a placebo and directly compared.
The researchers assessed therapy 12 weeks from beginning treatment and found that more patients receiving filgotinib achieved improvement in their RA using American College of Rheumatology criteria.
The most common side effects reported were nasopharyngitis and headache. Four patients developed herpes zoster and there were no opportunistic infections, active tuberculosis, malignancies, gastrointestinal perforations, or deaths.
About Rinvoq (upadacitinib)
The once daily oral JAK inhibitor Rinvoq is reported to produce a 20 percent reduction in RA symptoms.(5) In the first report by Genovese et al, 300 patients refractory to MTX treatment receiving Rinvoq had greater response to treatment than those receiving a placebo. A second report by Kremer et al. evaluated 276 RA patients on a stable dose of MTX, who failed an anti-TNF agent. ABT-494 again had a superior response of 53-71%, compared to placebo (34%).
According to one study author "In patients with an inadequate response or intolerance to anti-TNF agents, Rinvoq added to MTX showed rapid, dose-dependent improvements in RA signs and symptoms, with safety and tolerability similar to those of other drugs of this class."
Concerns about safety from clinical trials evaluating Rinvoq however have emerged. A research report suggested there were more serious infections and cases of herpes zoster in RA patients treated wit 30 mg compared to 15 mg or a placebo. There were also more discontinuations of therapy related to adverse events in the 30 mg group than in the other two groups. In addition two venous thrombotic events — pulmonary embolism or deep vein thrombosis were observed during the first 12 weeks of the trial: one at the 30 mg dose and one at the 15 mg dose. And another four such events occurred from weeks 12 to 24, bringing the total to six.
Rinvoq will clearly play a role in the management of RA and other inflammatory arthritis conditions however patients and their physicians will clearly need to keep on eye on its side effects.
There is a Boxed Warning for serious infection, malignancy and thrombosis risks:
Serious infections including tuberculosis and bacterial, invasive fungal, viral, and other opportunistic infections
Hold RINVOQ if a serious infection develops and until the infection is controlled
Test for latent tuberculosis prior to starting RINVOQ; if positive, start TB treatment prior to starting RINVOQ
Monitor all patients for active tuberculosis during treatment
Lymphoma and other malignancies have been observed in patients treated with RINVOQ
Thrombosis, including deep vein thrombosis, pulmonary embolism, and arterial thrombosis, have occurred in patients treated with RINVOQ
Another JAK inhibitor—Xeljanz® (tofacitinib)—has been approved by the US Food and Drug Administration for the treatment of moderately to severely active RA in adults who have had an inadequate response to methotrexate.
Taken together these reports suggest JAK inhibitors are safe, effective and should become incorporated into the overall management of RA giving physicians a new tool for the management of this condition.
Rinvoq is also being evaluating for several other autoimmune conditions, including psoriatic arthritis, Crohn's disease and ulcerative colitis.
References:
Genovese M, Kremer J, Samani O, et al. Barcitinib in patients with refractory rheumatoid arthritis. New England Journal of Medicine. March 31, 2016. DOI: 10.1056/NEJMoa1507247
Fleischmann R, et al. Baricitinib, Methotrexate, or baricitinib plus methotrexate in patients with early rheumatoid arthritis who had received limited or no treatment with disease modifying anti-rheumatic drugs: Phase III Trial Results. American College of Rheumatology 2015. Abstract 1045.
Taylor P, et al "Baricitinib versus placebo or adalimumab in patients with active rheumatoid arthritis and an inadequate response to background methotrexate therapy: results of a phase 3 study" ACR 2015; Abstract 2L.
Genovese MC, Smolen JS, WEinblatt ME, et al. Efficacy and Safety of ABT-494, a Selective JAK-1 Inhibitor, in a Phase IIb Study in Patients With Rheumatoid Arthritis and an Inadequate Response to Methotrexate. Arthritis Rheumatol. 2016 Dec;68(12):2857-2866. doi: 10.1002/art.39808.
Kremer JM, Emery P, Camp HS, et al. A Phase IIb Study of ABT-494, a Selective JAK-1 Inhibitor, in Patients With Rheumatoid Arthritis and an Inadequate Response to Anti-Tumor Necrosis Factor Therapy. Arthritis Rheumatol. 2016 Dec;68(12):2867-2877. doi: 10.1002/art.39801.
American College of Rheumatology (ACR) 2017 Annual Meeting: Abstract 10L. Presented November 7, 2017.
A Phase 3 Randomized, Placebo-Controlled, Double-Blind Study of Upadacitinib (ABT-494), a Selective JAK-1 Inhibitor, in Patients with Active Rheumatoid Arthritis with Inadequate Response to Conventional Synthetic Dmards
Gilead and Galapagos Announce Filgotinib Meets Primary and All Key Secondary Endpoints in First Phase 3 Study in Rheumatoid Arthritis
mavendoctors.io/theraconnection/rheumatoid-arthritis/fda-approves-oluminant-baricitinib-2-mg-for-rheumatoid-arthritis-ECOEGplbuU6Wo18WeQeyNA/