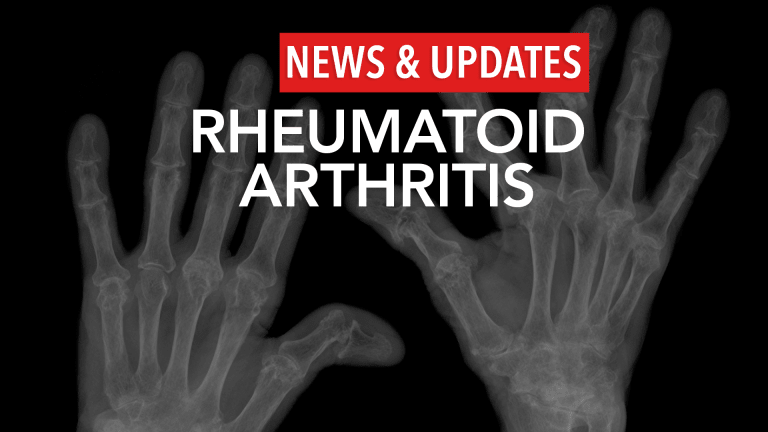 Humira-Methotrexate Combo Protects Against Joint Damage in Rheumatoid Arthritis
Combination of Humira and Methotrexate Protects Against Joint Damage in Early RA
by Dr. C.H. Weaver M.D. 11/2012​
Treatment of early rheumatoid arthritis (RA) with a combination of Humira® (adalimumab) and methotrexate resulted in less joint damage than treatment with Humira or methotrexate alone. Protecting the cartilage in joints may improve the ability of people to continue working. These results were published Annals of the Rheumatic Diseases.
Prevention of joint damage is an important goal of RA treatment. Without effective treatment, RA can permanently damage both bone and cartilage. The destruction of bone is often referred to as joint erosion, and the destruction of cartilage leads to joint space narrowing.
Humira is a newer type of RA drug known as a biologic disease-modifying antirheumatic drug (DMARD). Biologic DMARDs have dramatically improved RA outcomes for many patients.
To evaluate the effects of Humira on each aspect of joint health (joint erosion and joint space narrowing), researchers conducted a study among 799 patients with early, worsening RA that had never been treated with methotrexate. Methotrexate is a conventional (not biologic) DMARD that is commonly used in RA treatment.
Study participants were assigned to one of three treatments: methotrexate alone, Humira alone, or a combination of the two drugs.
Compared with patients treated with only a single drug, patients who received both Humira and methotrexate had greater reductions in RA disease activity.
The combination of Humira and methotrexate also reduced both joint erosion and joint space narrowing, even among patients who had persistent joint inflammation.
People who had the least joint space narrowing were more likely to be employed. Joint erosion, in contrast, did not appear to influence the likelihood of employment in this group of people with early RA.
The results of this study highlight the important role that joint space narrowing (cartilage damage) may have on a person's ability to function and continue working. The combination of Humira and methotrexate reduced joint space narrowing in this study, even among people who continued to show signs of joint inflammation.
Reference:
Smolen JS, van der Heijde M, Keystone EC et al. Association of joint space narrowing with impairment of physical function and work ability in patients with early rheumatoid arthritis: protection beyond disease control by adalimumab plus methotrexate. Annals of the Rheumatic Diseases. Early online publication August 22, 2012.