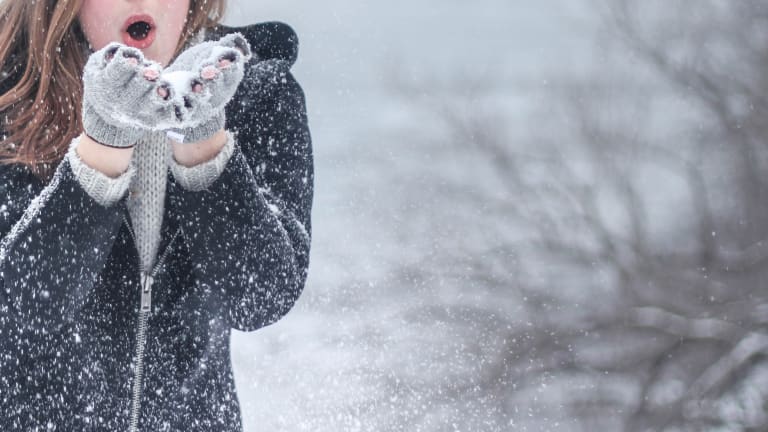 How to Get Through the Winter with Rheumatoid Arthritis - "Rising Above RA"
While the snow outside and holidays are beautiful, there is nothing beautiful about increased pain and feeling sluggish
by Effie Koliopoulos Medically Reviewed by C.H. Weaver 10/2021
I know a thing or two about cold weather and rheumatoid arthritis. The two definitely don't mesh well together. Having lived in the Midwest all my life- born and raised in the Chicagoland area, winters here have the reputation of being brutal. While the snowfall hasn't been bad in recent years, the bitter bone-chilling cold, frost and ice have still graced the Windy City.
Rheumatoid arthritis doesn't go on vacation but there is evidence to suggest that the condition is less active at certain times of year. A trio of studies completed over the span of more than a decade found that RA symptoms are generally more pronounced in spring and winter and ease up in fall and summer.1-6
So, why should you care? Well for one if you haven't already noticed I live with rheumatoid arthritis and fourteen winters with it to be exact. Here are some tried-and-true tips that have helped me cope and thrive through each winter.
De-stress and Stay Away from Those Who Are Sick, If You Can Help It
Taking a hot bath filled with Epsom salt, iodized sea salt or bentonite clay can help relieve muscle and joint pain, which can increase during the winter months for us arthritis warriors. Using essential oils such as lavender, citrus, and peppermint to name a few, can promote relaxation and make you energized during gloomy days. Viruses and bacteria run rampant in the winter months. If you know someone is sick, stay your distance. If it's a family member, spouse or loved one who is around you, using essential oils such as; thieves, on guard, and eucalyptus for example can do wonders. Wash your hands regularly and don't touch your face.
Stay Moving and Swim
Yes, you read right. I know swimming is the last thing you may want to do during -20-degree weather and snow, but if you can find a nearby indoor warm water therapy pool at your local gym or park center, try it out. Sometimes when we are in pain or inflamed so called "land workouts" can be hard on our bodies. Though the ease and buoyance of the water can help soothe your pain points. Get outside in the sun too. Usually in the winter are vitamin d levels drop, especially if you reside in the Northern Hemisphere because we are not in the sun as much- which can cause a spike in pain and inflammation for those of us living with RA.
Treating Autism: How Omega-3 Fish Oil Helps
Reduced social contact and the performance of repetitive activities are two behavioral traits that are altered in the neurodevelopmental condition known as an autism spectrum disorder (ASD).
Stay Hydrated, Rest and Supplements
Just because it's not hot and humid out, doesn't mean you should stop drinking 8 glasses of water or more a day. Drinking more water will make you feel better, more focused, alert and less sluggish. We can become more fatigued and tired during these months, as our bodies crave hibernation. So a proper amount of sleep is crucial as well. Make sure you take good supplements like vitamin d- specifically vitamin d3 and other items such as turmeric, fish oil and the like, that help with joint pain and inflammation.
Stay Warm Inside and Outside Your Home
A coat, hat, gloves, scarf, leg warmers are all a must. While this is obvious, extra precautions need to be taken if you live with a chronic illness. Hands and feet are subject to frost bite and that's the last thing you want to deal with on top of everything else. Making sure your home is well heated and has proper ventilation is key. A space heater and de-humidifier can be used around specific areas of your home that need more warmth or moisture. Amazon has plenty for reasonable prices.
Communicate with Your Doctor If You Are Flaring
If you find that your rheumatoid arthritis is flaring, talk to your doctor ASAP. It's not fun to have to deal with a flare during the winter, trust me. Many rheumatologists are aware that the high humidity, dew points and barometric pressure in the summer and winter months are busy season for their patients. So don't be afraid to speak up and get relief.
References