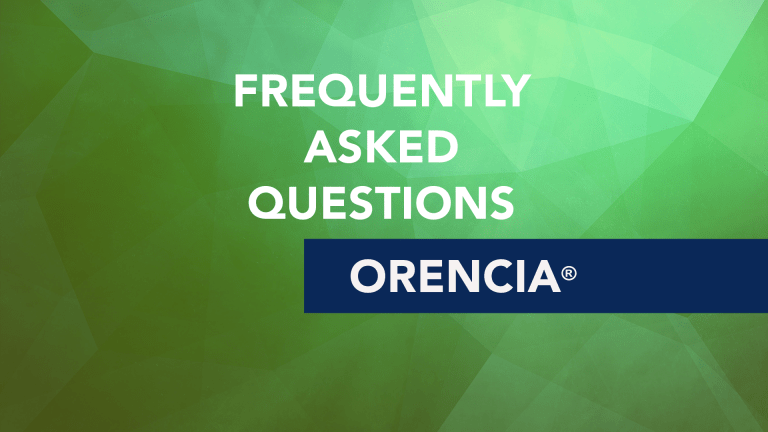 Frequently Asked Questions About Orencia (Abatacept)
Understand the administration, side effects and answers to frequently asked questions about Orencia.
Frequently Asked Questions About Orencia (Abatacept)
Last Reviewed by C. H. Weaver M.D., Medical Editor 6/2020
Class: Immunotherapy
Understand the administration, side effects and answers to frequently asked questions about Orencia.
For which conditions is this drug approved? Orencia is approved for use in adults with moderate to severe rheumatoid arthritis (RA). This includes patients who have tried other medicines for RA that have not worked well enough. Orencia can be used alone or with other RA treatments, except for RA treatments known as tumor necrosis factor (TNF) antagonists. Orencia can also be used for the treatment children and teenagers, six years of age and older, with moderate to severe polyarticular juvenile idiopathic arthritis (JIA). In patients with JIA, Orencia can be used alone or with methotrexate.
What is the mechanism of action? In patients with RA, Orencia works by suppressing the immune system to prevent it from damaging tissues and joints. The immune system helps protect the body from harmful substances such as infectious agents and bacteria. In people with RA, however, the immune system attacks and destroys normal tissue—namely, the tissue around the joints. This leads to inflammation and damage to the cartilage and bone and causes pain. Specifically, Orencia blocks the action of immune cells called T-lymphocytes to stop these cells from attacking normal tissue.
How is Orencia typically given (administered)? Orencia is given as an intravenous (IV) infusion. Each infusion takes about 30 minutes. After you receive your first dose, you'll receive a second dose two weeks later and then every four weeks after that. You can also receive Orencia as an injection under your skin. Your doctor may decide that it's safe for you to give yourself the injection or have a caregiver give them. Your doctor will show you or your caregiver how to give the injections.
How are patients typically monitored? During treatment with Orencia, your doctor will check you regularly for the following:
Hypersensitivity and severe allergic reaction—including sudden, widespread, and potentially life-threatening reaction
Infections (especially if you have history of recurrent infections or tend to get frequent infections)
Respiratory problems among patients with chronic obstructive pulmonary disease (COPD).
Infection with the hepatitis B virus
What are some of the side effects (occur in 10% to 29% of patients) of treatment with Orencia?
Headache
Nasopharyngitis (inflammation of the nose and pharynx)
This is not a complete list of side effects. Some patients may experience other side effects that are not listed here. Patients may wish to discuss with their physician the other less common side effects of this drug, some of which may be serious.
Some side effects may require medical attention. Other side effects do not require medical attention and may go away during treatment. Patients should check with their physician about any side effects that continue or are bothersome.
What can patients do to help alleviate or prevent discomfort and side effects?
Before you start taking Orencia, tell your doctor if you:
Have any kind of infection. This includes small infections (such as cuts and open sores) and infections that affect your whole body (such as the flu).
Have an infection that won't go away or keeps coming back.
Are allergic to the main ingredient in Orencia (abatacept) or any of the ingredients in Orencia (maltose, monobasic sodium phosphate, and sodium chloride for IV infusion and sucrose, poloxamer 188, monobasic sodium phosphate monohydrate, and dibasic sodium phosphate anhydrous for subcutaneous injection).
Have or have had inflammation in your liver as the result of an infection (specifically, viral hepatitis).
You have a lung infection called tuberculosis (TB), have tested positive for TB on a skin test, or have been in close contact with someone who has TB.
Have night sweats.
Are scheduled to have surgery.
Recently received a vaccination or are scheduled for a vaccination. You should not receive live vaccines while you are receiving Orencia or for three months after.
Have a history of COPD.
Have diabetes and use a blood glucose monitor to check your blood sugar (blood glucose) levels. The intravenous infusion form of Orencia contains a type of sugar called maltose that can cause certain types of blood glucose monitors to give false high blood sugar readings on the day of the infusion.
Have any other medical conditions.
Tell your healthcare provider about all the medicines you take, including prescription and non-prescription medicines, vitamins, and herbal supplements. Keep a list of your medicines and show it to your healthcare provider and pharmacist when you get a new prescription. Orencia may affect the way other medicines work, and other medicines may affect the way Orencia works and can raise your risk of serious side effects.
Be especially sure to tell your doctor if you take other biologic medicines to treat RA or JIA that may affect your immune system. These include: Enbrel® (etanercept), Humira® (adalimumab), Remicade® (infliximab), Kineret® (anakinra), Rituxan® (rituximab), Simponi® (golimumab), Cimzia® (certolizumab pegol), and Actemra® (tocilizumab).
Are there any special precautions patients should be aware of before starting treatment?
Tell your doctor if you are pregnant or planning to become pregnant. It is not known if Orencia can harm your unborn baby. If you took Orencia during pregnancy, talk to your healthcare provider before your baby receives any vaccines.
Bristol-Myers Squibb Company has a registry for pregnant women exposed to Orencia. The purpose of this registry is to check the health of the pregnant mother and her child. Women are encouraged to call the registry themselves or ask their doctors to contact the registry for them by calling 1-877-311-8972.
Tell your doctor if you are breastfeeding or plan to breastfeed. It is not known if Orencia passes into your breast milk. You and your doctor should decide if you will use Orencia or breastfeed—you should not do bot Carry the hepatitis B infection in people who carry the virus in their blood.
Tell your doctor if you carry the hepatitis B virus. This virus can become active during treatment with Orencia.
When should patients notify their physician?
Tell your doctor right away if:
You have symptoms of an infection. These include: fever; feel very tired; cough; flu-like symptoms; and warm, red, or painful skin.
You have symptoms of an allergic reaction. These include: hives; swollen face, eyelids, lips, or tongue; and trouble breathing.
If you have symptoms of a respiratory problem, including CPOD. These include COPD that gets worse, a cough, or trouble breathing.
What is a package insert?
A package insert is required by the FDA and contains a summary of the essential scientific information needed for the safe and effective use of the drug for healthcare providers and consumers. A package insert typically includes information regarding specific indications, administration schedules, dosing, side effects, contraindications, results from some clinical trials, chemical structure, pharmacokinetics and metabolism of the specific drug. By carefully reviewing the package insert, you will get the most complete and current information about how to safely use this drug. If you do not have the package insert for the drug you are using, your pharmacist or physician may be able to provide you with a copy.
Important Limitations of Use
The information provided above on the drug you have selected is provided for your information only and is not a substitute for consultation with an appropriate medical doctor. We are providing this information solely as a courtesy and, as such, it is in no way a recommendation as to the safety, efficacy or appropriateness of any particular drug, regimen, dosing schedule for any particular cancer, condition or patient nor is it in any way to be considered medical advice. Patients should discuss the appropriateness of a particular drug or chemotherapy regimen with their physician.
As with any printed reference, the use of particular drugs, regimens and drug dosages may become out-of-date over time, since new information may have been published and become generally accepted after the latest update to this printed information. Please keep in mind that health care professionals are fully responsible for practicing within current standards, avoiding use of outdated regimens, employing good clinical judgment kin selecting drugs and/or regimens, in calculating doses for individual patients, and verifying all dosage calculations.
DISCLAIMER OF WARRANTIES
THEARTHRITISCONNECTION SPECIFICALLY DISCLAIMS AND EXCLUDES ALL EXPRESSED OR IMPLIED WARRANTIES, INCLUDING ANY IMPLIED WARRANTIES AS TO QUALITY, ACCURACY (INCLUDING TYPOGRAPHICAL ERRORS), MERCHANTABILITY, OR FITNESS FOR ANY PARTICULAR PURPOSE OF THE INFORMATION CONTAINED HEREIN. THERACONNECTION FROM ANY USE OF THE INFORMATION.
The prescribing physician is solely responsible for making all decisions relating to appropriate patient care including, but not limited to, drugs, regimens, dose, schedule, and any supportive care.