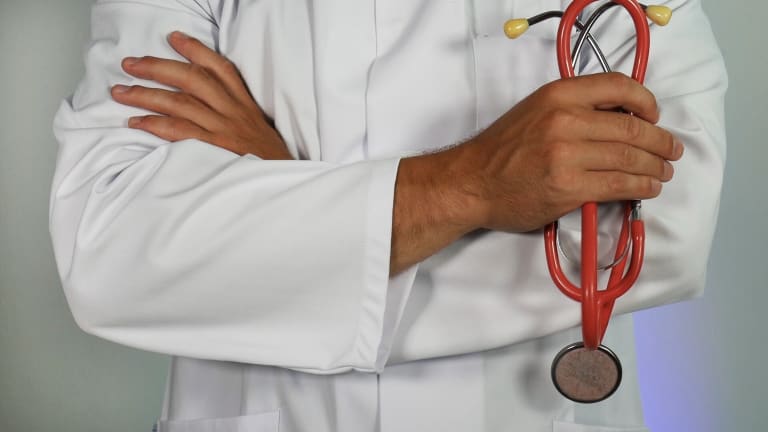 Building Your Medical Team
Inflammatory arthritis and rheumatoid conditions are complicated-building your medical team is critical for optimal Rx!
by Dr. C.H. Weaver M.D. 8/2021
Inflammatory arthritis and rheumatoid conditions are complicated. They can affect your whole life so it's important to have a strategic, coordinated approach to managing them. These are a systemic illness and can affect every aspect of your health, including your physical, mental, and emotional wellbeing.
Most people will need a medical team for optimal treatment. Doctors and other healthcare practitioners specialize in different areas—and because you may be faced with a number of health issues, you'll need to enlist the appropriate experts to help you.
Organizing Your Team
Like any successful team, your medical team needs a leader. You'll have one physician—likely your rheumatologist—who oversees your overall treatment plan and several other practitioners who each fill unique roles.
Because you may be working with a number of different healthcare practitioners, it's important to keep detailed notes about all of your appointments, prescriptions, and treatment approaches. A few tips for managing your treatment:
Keep a master file of all records. Every time you see a member of your treatment team, ask for a copy of your record. Keep a detailed file that you can carry with you to all appointments so that everyone is on the same page.
Keep an updated timeline. Track all hospitalizations, changes in medications, surgeries, etc. Communicate this information at each doctor visit. Don't assume all of your team members are up to date on the latest developments in your disease status.
Maintain regular appointments, especially with your rheumatologist. Be a proactive member of your own care team by staying on top of your health.
The RA Treatment Team
Your medical team will depend on your individual needs, but may include one or more of the following:
Rheumatologist: A rheumatologist is a medical doctor with specialized training in rheumatology. Rheumatologists are the experts when it comes to bone and joint health and chronic inflammatory conditions like RA, AS, PsA and SLE that impact all body tissues and organs. They understand the nuances and are trained to detect changes early in the course of the disease.
Typically, a rheumatologist is the head of the care team. Your rheumatologist will monitor your disease and its progression and customize your treatment plan according to your needs, making adjustments when needed. Your rheumatologist will also provide recommendations and referrals for other healthcare practitioners.
Your rheumatologist will see the "big picture" of your disease, whereas the other specialists on your care team may focus on one small aspect of your health. One of the best ways to manage your condition is to visit your rheumatologist regularly. In fact, some research indicates that patients who see a rheumatologist several times a year fare better than those who do not.
Primary Care Physician: A primary care physician is typically a general practitioner who is your first line of defense for anything health related. In fact, your primary care physician was likely the first doctor you visited when you experienced the joint pain and swelling that led to a diagnosis. Many people have health plans that require a visit to a primary care doctor first for any health concern. A primary care physician is trained to recognize symptoms and can provide a referral to a rheumatologist.
Even if you have a rheumatologist, your primary care physician is still an important part of your care team. You'll see a primary care physician for general check-ups and preventive health maintenance, such as mammograms and annual blood work.
Physical Therapist: Physical therapists are trained to identify and address muscle groups and joints that need improvement. A physical therapist will assess your fitness level, strength, and range of motion and then design an exercise program to meet your needs. The goal of physical therapy is preserve joint strength, maintain flexibility and range of motion, and control pain. A physical therapist is a key part of your RA care team and will help keep you moving and healthy.
Occupational Therapist: An occupational therapist focuses on helping you to maintain independence and continue performing your normal activities of daily living. Occupational therapists are pros at finding alternatives and modifications for tasks. The goal of occupational therapy is to help you continue to live life independently in your own way. An occupational therapist will help you find ways to perform tasks by minimizing the stress placed on joints. Occupational therapists sometimes provide splints or other assistive devices to help promote independent function. An occupational therapist is an important member of your care team.
Counselor: Life can come with psychological and emotional challenges and it's important to have emotional support. Counseling can provide an emotional outlet as well as stress management and coping tools. You may choose to see a psychologist, psychiatrist or other trained therapist for counseling and stress management techniques. Both psychologists and psychiatrists can provide counseling; a psychiatrist can prescribe medication, such as antidepressants, if necessary.
Social Worker: A social worker can provide both emotional and practical support. Social workers are also trained to help you navigate the healthcare system and connect you with community and government resources that might help. A social worker can be extremely helpful with health insurance issues.
Orthopedic Surgeon: An orthopedic surgeon will evaluate and treat bone, joint, tendon, and ligament damage that can result from chronic inflammation. Sometimes, surgery is a reasonable option for treatment. Surgical interventions vary and can include arthroscopic procedures and joint replacements. The goal of surgery is to help you maintain use of your joints for as long as possible.
Podiatrist: A podiatrist specializes in treating the foot and ankle joint. If your feet are affected, a podiatrist might be a key part of your care team. Podiatrists can prescribe medication to control inflammation and preserve joint function. They may also prescribe special shoes or other devices to help. In some cases, podiatrists might perform surgery on the feet or ankles.
Ophthalmologist or Optometrist: An eye specialist can be important many patients will develop uveitis – an inflammation of the eye and some medications can also cause visual defects or complications. Regular eye exams are a key component of treatment. An eye specialist can prescribe glasses, contact lenses, or medications to correct your vision.
Nurse: Doctors are often so busy that they don't have more than a few minutes to connect with patients. If you have questions about your diagnosis or treatment, your nurse is an excellent resource. While doctors prescribe treatment plans, nurses help carry them out. Your nurse can provide practical suggestions for following through on your treatment protocol. Nurses are a wealth of information, so use them. Furthermore, your nurse has direct contact with your doctor and you can be certain that if your nurse can't answer your question, she'll speak with the doctor and get back to you. This is often the quickest way to get answers.
Dietitian or Nutritionist: A registered dietitian (R.D.) or nutritionist specializes in dietary and nutritional habits—namely, modifying diets to prevent and treat disease and maintain optimal health. A nutritionist or dietitian can help educate you regarding nutritional choices that may have a positive or negative impact. They can be an excellent resource for helping you to modify your diet and choose foods that will improve—rather than exacerbate—your symptoms.
Cardiologist: Many inflammatory conditions are associated with an increased risk of cardiovascular disease, it's important to stay on top of your heart health. A cardiologist is a doctor with special training and skill in identifying, treating, and preventing diseases of the heart and blood vessels. Schedule regular check-ups with a cardiologist to identify any changes to your cardiovascular health so that you can make appropriate lifestyle changes to prevent heart disease.
Pulmonologist: Lung disease is a common complication and patients can have some abnormal lung function. A quarter of patients with RA will develop rheumatoid lung disease. A pulmonologist is a medical doctor who specializes in treating the lungs and respiratory tract. Regular check-ups with a pulmonologist are important because lung problems that are detected earlier can be easier to treat. A pulmonologist will listen to your lungs and monitor your breathing at each visit. If you experience shortness of breath, coughing, or other respiratory symptoms schedule a visit with your pulmonologist, as these are potentially serious symptoms that warrant immediate attention.
Pain Management Specialist: A pain management specialist is a medical doctor who specializes in treating chronic pain. Sometimes, your rheumatologist can treat your pain—but for chronic, severe pain, it may be necessary to see a pain management specialist. Pain specialists use a variety of treatment modalities to treat pain and can help you find ways to reduce your pain levels and cope with chronic pain.
Pharmacist: Pharmacists are healthcare professionals who practice in pharmacy, the field of health sciences focusing on safe and effective medication use. Pharmacists are trained to understand the biochemical mechanisms of action of drugs, drug uses and therapeutic roles, side effects, and potential interactions. They are also educated in anatomy, physiology, and pathophysiology. Your pharmacist is an integral member of your care team and will be able to provide you with crucial information regarding your medications. When you pick up your prescriptions, ask your pharmacist any questions you may have and be sure to follow up regarding side effects.
Dentist: Patients have a higher risk of periodontal disease and tooth decay. This is partly a result of the disease and the medications used to treat it and partly a result of the fact that inflamed hand and wrist joints can make oral hygiene painful, if not impossible. It is imperative to take care of your oral health with regular brushing and flossing. People with RA often need more frequent dental visits. Include your dentist in your care team for optimal results.
Acupuncturist: Acupuncture is a form of traditional Chinese medicine that aims to improve health by using fine needles to stimulate specific points of the body. Acupuncture won't "cure" you, but it can help to manage symptoms. Acupuncture can be an excellent tool for managing pain, anxiety, stress, depression, and more. If you are interested in including acupuncture in your treatment plan, discuss it with your rheumatologist and look for a licensed clinical acupuncturist who has experience with RA.
Massage Therapist: A massage therapist can help relieve muscle tension and improve range of motion. Many people find that regular massage therapy helps to relieve pain and promote relaxation. Look for a certified massage therapist who has relevant experience. Avoid massage during periods of inflammation.
Personal Trainer: A personal trainer is a fitness professional that specializes in designing and implementing safe and effective exercise programs. If you are interested in incorporating exercise and movement into your healthcare strategy, a personal trainer might be an asset. Look for a certified professional who has experience and can help you implement an exercise regimen that will help, rather than hinder, your symptoms.