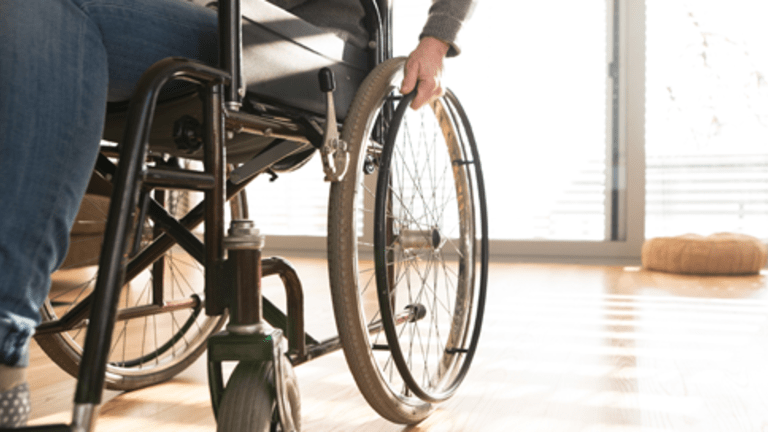 Arthritis - Assistive Devices & Occupational Therapy
Are You Making Everyday Life a Little Easier With The Use of Assisted Devices and Occupational Therapy?
by Dr. C.H. Weaver M.D. updated 10/2021
Arthritis and chronic inflammatory conditions may slow you down, but it doesn't have to stop you. If you find yourself struggling with everyday activities, there are devices—called assistive devices—that can help you.
An assistive device is a product or tool designed to assist with tasks and promote independent function. These devices can help make everyday life a little bit easier and help you to maintain your independence. There are countless types of assistive devices and some are even specifically designed for people to help with mobility and grip.
Occupational Therapy and Assistive Devices
Occupational therapists specialize in helping people maintain independence and perform daily activities. They often find alternatives or modifications for tasks—and sometimes this means providing splints or other assistive devices to help promote independent function. An occupational therapist is a critical member of your care team. If you haven't already, it might be wise to set up a consultation with an occupational therapist.
An occupational therapist will help you find ways to perform tasks by minimizing the stress placed on joints. They are pros at finding alternatives and modifications—and sometimes this means identifying and/or creating assistive devices that will allow you to cook, clean, bathe, dress, or move around with more ease.
Your occupational therapist can help you determine which assistive devices you need and where to get them. Some assistive devices are available at a local pharmacy and others can be found online. Sometimes an assistive device is a simple tool you may already have around the house, but will learn to use in a creative and new way.
The Importance of Assistive Devices
Inflammatory conditions can be a painful and debilitating disease and can have a devastating effect on your regular routine. Assistive devices can help you to conserve energy and get through your day with less pain. Not everyone needs assistive devices, but depending on the stage of your disease, you might find them useful at some point.
As you experience joint changes and inflammation, you may find that some activities become more challenging. The most difficult activities are those that involve resistance, weight, or pressure on the joints. Assistive devices can relieve some of that pressure and make it possible for you to stay independent and mobile for as long as possible. To better manage these lifelong diseases—assistive devices provide help for learning to manage on your own.
If you recognize that you need some help, there are a number of different types of assistive devices that can make a difference.
Assistive Devices for Mobility: There are many devices that can make it easier to move and get around.
Cane, Crutches, or Walker: A cane or a walker can help make walking easier and make the joints last longer. When you have a painful knee or hip, using a crutch on the opposite side can provide relief.
Splints/Braces: Splints and braces provide support to the joints and help decrease strain. Often, your occupational therapist will make a splint for you.
Orthotics: Orthotics are inserts for your shoes. They can be custom-designed by a podiatrist or purchased over-the-counter. Orthotics can help provide relief for painful feet, making it easier to stand and walk.
Elevated chair legs: If you find it difficult to get in and out of chairs, you can have your chairs fitted with extenders, which elevate the chairs and make them easier to get in and out of.
Wheelchairs: A wheelchair can be especially helpful during travel or outings that require a lot of walking—such as museums, zoos, or shopping centers.
Motorized scooters or carts: Many airports and shopping centers provide motorized carts that allow you to cover considerable distances while sitting. This can prevent fatigue and pain.
Reachers: Reachers are long rods with a grip handle on one end and claw-like pinchers on the other. They help you retrieve objects without having to bend or reach.
Stepstools: Stepstools can help you reach items with less effort. Some stepstools even come with wheels that you can easily lock with the tap of a foot—making them easy to move around and use where you need them.
Assistive Devices for the Kitchen
There are many tools and devices designed to make cooking easier, with or without RA. Some of the motions used in the kitchen—such as opening jars, peeling vegetables, or lifting heavy pots—can be quite painful. In fact, one of the greatest barriers to maintaining a healthy diet is the pain involved with cooking. There are a variety of kitchen aids that can make life easier:
Treating Autism: How Omega-3 Fish Oil Helps
Reduced social contact and the performance of repetitive activities are two behavioral traits that are altered in the neurodevelopmental condition known as an autism spectrum disorder (ASD).
Wide grips: There are a number of arthritis-friendly utensils on the market that have wide, foam handles. These are easier to grip and can prevent the pain that comes with trying to grip smaller utensils.
Jar-opening devices: These devices provide a better grip and make opening jars easy.
Small appliances: Small appliances, such as electric can openers and food processors, can make kitchen work much easier. Let the food processor chop and grate for you and prevent wrist pain.
Large handles: Replace small knobs on cabinets, drawers, and stoves with larger handles that are easier to grip. Sometimes, you can even find levers that don't require turning.
Double-handled pots: Buy pots and pans with handles on both sides. This makes them easier to carry because you can spread the weight between both hands.
Rocking T knife: This type of knife is used by applying pressure directly above the food to be cut. It can be used with one hand and it requires less strength and dexterity than a regular knife.
Milk carton holder: A milk carton holder provides a plastic handle to be used with a half-gallon milk carton. It makes it easier to hold and pour milk.
Lightweight plates: Invest in a set of dishes that are lightweight, making it easier to serve meals and clear the table and load the dishwasher. Keep a stash of paper plates on hand for days when you simply cannot lift plates.
Assistive Devices for the Bathroom
The simplest activities associated with bathing and grooming can be extremely challenging and painful. These activities involve a lot of standing and bending. There are a variety of assistive devices designed to make these tasks easier:
Tub bench or shower seat: Placing a seat in the shower or tub allows you to bathe more comfortably without getting too tired. It can also prevent slips and falls.
Safety bars: Safety bars and railings—sometimes called grab bars—are essential for the bathroom. These bars should be strategically placed in the shower and near the toilet. They can make it easier to get in and out of the shower and on and off the toilet.
Raised toilet seat: A raised toilet seat can make it easier to get on and off the toilet.
Shower curtain: A shower curtain is a better choice than shower doors, which are heavy and difficult to grasp.
Stool or chair: Grooming takes time and fatigue can quickly set in. Place a stool or chair near the sink and/or mirror so that you can sit while shaving, applying make-up, or fixing hair.
Long-handled tools: A long-handled sponge can help you wash your body without reaching and bending. A long-handled comb makes it easier to comb hair.
Electric toothbrush: An electric toothbrush makes brushing teeth much easier and places less strain on the hand and wrist. It also has the bonus of having a fat handle, which is easier to grip.
Electric razor: Electric razors make shaving easier and quicker. The wide grip provides extra relief.
Flossing tool: Manipulating dental floss is difficult, if not impossible, with RA; however, oral health is critical because there is evidence that inflammation in the gums increases inflammation throughout the body. There are several flossing tools on the market that provide a small piece of floss hooked to a handle. These can be easier to manage.
Large sponge or wash mitt: A washcloth can be difficult to grip. Instead look for a wash mitt that fits over your hand or a large sponge.
Assistive Devices for Getting Dressed
There are some activities you can skip, but getting dressed is not one of them. Getting dressed can be frustrating and exhausting. In fact, morning joint stiffness can make this the most difficult task of the day. Fortunately, there are devices designed to make the process easier:
Buttoning aid: Buttons can be nearly impossible to deal with, but there are buttoning aids designed to help you button blouses, pants, and skirts.
Zipper pull: A zipper pull has a large rung that attaches to a zipper tag, making zippers easier to grab and pull.
Clothes fastener: A clothes fastener has a button hook on one end that helps fasten small buttons and a hook on the other end that helps open and close zippers.
Sock aid: A sock aid can help you pull up your socks without bending your legs.
Long-handled shoehorn: A long-handled shoehorn can make it easier to put on shoes without bending over. Sometimes these devices have a small notch on the end to help remove socks.
Velcro: Velcro fasteners are the easiest to manage. Look for clothing and shoes that have Velcro fasteners or hire a seamstress to make alterations.
Large buttons: Buttons that are at least the size of a nickel are easier to manipulate. Shop accordingly.
Front closures: Look for bras and dresses that close in the front, rather than the back, as they are easier to take on and off.
Assistive Devices for Around the House
Depending on your needs, there are a number of devices that can make everyday living just a little bit easier:
Telephone headset: A hands-free headset for the phone can prevent neck, shoulder, wrist, and arm pain.
Touch lamps: The tiny knobs on lamps are challenging for individuals with arthritis. Instead, look for lamps that can be touch activated.
Large knobs or levers: Light switches, drawer pulls, and small knobs can all be replaced with larger variations. Sometimes the best option is a floor switch that you operate with your foot.
Book stands: Book stands can provide easy hands-free reading. They are also helpful for holding cookbooks in the kitchen.
Spring-operated scissors: A pair of lightweight, spring-operated scissors make cutting much easier.
Long-handled duster: A duster with a telescopic handle can make it easier to reach and dust.
Assistive Devices for the Car
Getting in and out of the car can be difficult and painful. There are several devices designed to make driving easier.
Wide key holder: Turning a small key can be difficult and painful. A wide key holder is easier to maneuver. Some newer cars come with keyless entry and ignition.
Wide-angle mirrors: If you have any neck stiffness or pain, it can be difficult to turn your head. Install panoramic or wide-angle rear and side-view mirrors to remedy this problem.
Seatbelt extender: A seatbelt extender attaches to your existing seatbelt and makes it easier to grasp, pull, and buckle.
Resources for Assistive Devices
Your occupational therapist is an excellent resource for assistive devices. Some other helpful resources include: