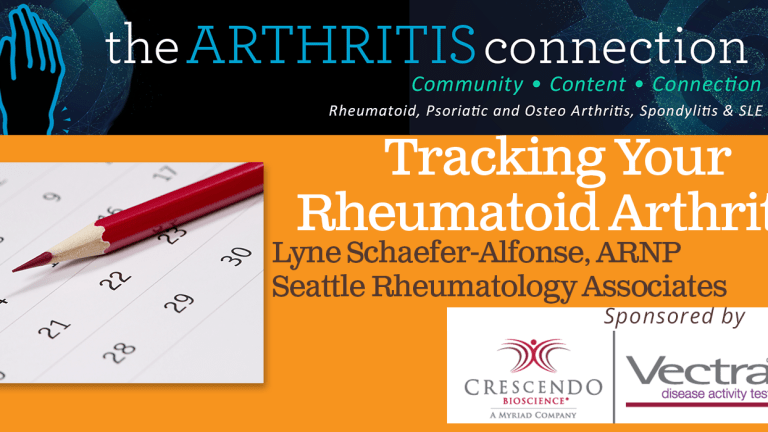 Ask The Expert: How to Track Your Rheumatoid Arthritis
Lyne Schaefer-Alfonse, ARNP discusses how to track the activity or your rheumatoid arthritis and why this is important
Lyne Schaefer-Alfonse, ARNP shares important information on how to track your rheumatoid arthritis in this informative web chat.
Lyne Schaefer-Alfonse is a Nurse Practitioner who joined her team of colleagues at Seattle Rheumatology Associates 8 years ago. In this private practice she manages patients with a variety of rheumatologic conditions and is a sub-investigator for numerous clinical trials. She has a Master's degree from the University of South Florida and a background in adult and geriatric primary care. She is a member of the American College of Rheumatology (ACR/ARHP) and a guest lecturer for nursing students at the University of Washington. She also engages in educating the public, and her fellow healthcare professionals, about rheumatologic conditions and treatments at a regional and national level.
Regular and systematic assessment of RA disease activity plays a key role in the management of this condition. Disease activity refers to ongoing inflammation, symptoms, and/or joint damage. Information about the level of disease activity allows doctors to monitor your response to treatment and to adjust your treatment as needed. Commonly used measures of disease activity consider factors such as counts of tender and swollen joints, your own assessment of your health, and lab tests to identify inflammation. A newer way to measure disease activity is the Vectra DA test, which is a blood test that allows doctors to test for several biological markers (or biomarkers) of RA simultaneously. Improved assessment of RA disease activity could refine treatment decisions and allow for better RA control. Ms. Schaefer-Alfonse will discuss how to track your RA and answer your questions.
Join the Conversation and Learn More about How to Track Your RA
TheRAConnection is a unique social network that provides a safe and secure environment for individuals affected by RA to learn, support, and connect with others who have similar issues and concerns. Finding your way through the maze of RA information can be a challenging and sometimes lonely experience. The community at TheRAConnection is designed to foster conversation and connection. It's a place where you can share information, experience, and support—and a place where you can remember that you are not alone. Join Now!
To learn more about living and thriving with RA check out our online resources on psoriatic arthritis, ankylosing spondylitis, systemic lupus, treatment, osteoarthritis, rheumatoid arthritis or get connected with others in our private, online community here.
Other Web Chats in this Series:
Available Now: How to be an Empowered Patient with RA and Other Chronic Conditions
Communicating with Your Doctor with Angela Durazo
Sponsored by:
​
​