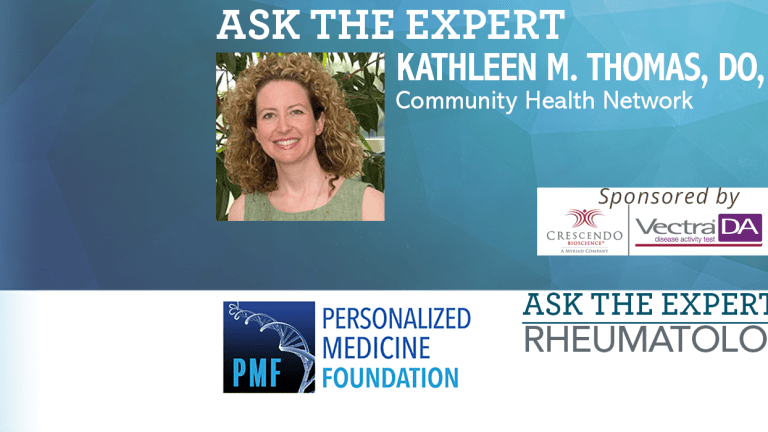 Ask the Expert: How to Know if Your RA Treatment is Working
Dr. Kathleen M. Thomas discusses how to know if your rheumatoid arthritis treatment is working
In this informative web chat, you will learn more about RA assessment, knowing your numbers, setting goals, Vectra DA, and the importance of good communication in order to optimize informed and shared decision making.
Dr. Thomas earned her medical degree from Lake Erie College of Osteopathic Medicine. After completing her internal medicine residency at Ball Memorial Hospital, she went on to complete her rheumatology fellowship at Indiana University School of Medicine. Dr. Thomas was in private practice for two years before joining Community Physician Network. She is board certified in rheumatology. Dr. Thomas enjoys practicing all aspects of rheumatology with a particular interest in inflammatory arthritis. Learn more about Dr. Thomas here.
Join the Conversation and Learn More about How to Know if Your RA Treatment is Working
TheRAConnection is a unique social network that provides a safe and secure environment for individuals affected by RA to learn, support, and connect with others who have similar issues and concerns. Finding your way through the maze of RA information can be a challenging and sometimes lonely experience. The community at TheRAConnection is designed to foster conversation and connection. It's a place where you can share information, experience, and support—and a place where you can remember that you are not alone. Join Now!
Treating Autism: How Omega-3 Fish Oil Helps
Reduced social contact and the performance of repetitive activities are two behavioral traits that are altered in the neurodevelopmental condition known as an autism spectrum disorder (ASD).
More Information About Vectra DA
Vectra DA Tracks Disease Activity
Vectra DA Predicts Disease Activity up to Two Years
​