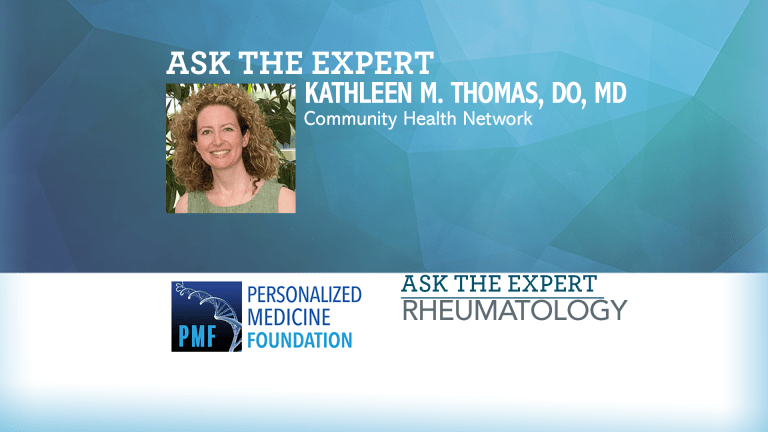 Ask the Doctor: Rheumatoid Arthritis Treatment Guidelines
Q&A with Kathleen Thomas, DO Board-Certified Rheumatologist
Q: The American College of Rheumatology (ACR) publishes recommendations for the treatment of rheumatoid arthritis (RA). (1)
For individuals living with RA, how do these guidelines affect treatment planning?
The guidelines place an emphasis on shared decision-making; that is, patients need to be actively involved in treatment decisions, with physicians taking into consideration patients' values and preferences. (To editorialize, I love that development of the guidelines—the panel—included two patients, not just rheumatologists.) These guidelines do mention consideration of costs associated with medications. They also explore more-complicated patient types, such as patients with congestive heart failure, hepatitis B or C, or a history of treated cancers. We finally have some official guidance that is data driven to the best extent possible.
Q: The guidelines include a recommendation for all patients, whether in the early stages of RA or living with established disease, to "use a treat-to-target strategy rather than a nontargeted approach." Can you define a treat-to-target approach?
Let's clarify - treatment guideline address medication choices (therapy) with the overarching goal of treat-to-target (T2T). The T2T imperative is addressed in another report and set of guidelines, Treating Rheumatoid Arthritis to Target: Update of the Recommendations of an International Task Force.2 The T2T goal is to treat to clinical remission, which is defined as an "absence of signs and symptoms of significant inflammatory disease activity." The update emphasizes that remission is the target in early RA and perhaps low-disease activity is acceptable/realistic in established disease. T2T requires that we first measure disease activity and, second, adjust treatment to achieve this. The T2T approach, in which you have your target to reach—numbers that define good disease control and make changes as needed to get there—is already a common concept in other disease states like high blood pressure (hypertension) and high cholesterol and diabetes.
Q: What are the benefits of the T2T approach for patients?
There are numerous studies in RA that show that patients who achieve tight control do better with respect to less damage or progression and have better functional status. The goal in treatment is to "control symptoms, prevent structural damage, and normalize function and participation in social and work-related activities." Bottom line: we want patients to lead normal lives with minimal accrual of damage from RA.(2)
Q: Are there any potential drawbacks or risks of this approach to treatment?
Most patients require multiple medications under this approach, and that can be cumbersome and expensive and result in an increased risk of side effects, and, with increased immunosup­pression, there is a higher risk of infection (some serious). These guidelines address short- and long-term use of steroids, which carry a different set of potential side effects.
Q: Can you describe a sample treatment case study using the T2T approach to illustrate how a physician would use it to help a patient navigate treatment choices?
Treating Autism: How Omega-3 Fish Oil Helps
Reduced social contact and the performance of repetitive activities are two behavioral traits that are altered in the neurodevelopmental condition known as an autism spectrum disorder (ASD).
Let's use an example of a newly diagnosed patient. At the first visit, we discuss the disease and set treatment goals. This patient has high disease activity—a lot of swollen joints, morning stiffness, and a high Patient Activity Score. We would start a traditional disease-modifying agent (DMARD)—likely Trexall® (methotrexate)—and some dose of steroid to bridge. There are different doses of steroids that can be initiated, and the patient would have input. We would see this patient back in four to six weeks. If at that point the patient still had high disease activity, we would maximize the dose of Trexall (continue monotherapy) and likely continue some dose of steroid, per patient response and tolerability. At the next visit after another four to six weeks, if the patient were at moderate or high, we would discuss the option of a second DMARD or initiating a biologic. Steroids would be continued as needed. Such a patient would have a follow-up every one to three months until remission (preferably) is achieved.
These new guidelines do not take into consideration prognostic factors such as sero status (se­ropositive patients tend to have more-aggressive disease a higher risk of radiographic progression) or extra-articular manifestations such as secondary Sjogren's syndrome, but I do discuss these with patients and they influence my recommendations.
Q: What should patients consider asking their rheumatologist about the new guidelines and T2T specifically?
Patients should ask, "How is my disease being measured and defined?" There are data that 55 percent of rheumatologists do not use any of the six formal tools (metrics) as recommended by the ACR to measure and assess disease activity. A parallel question in regard to high, moderate, or low disease activity is, "Where am I?" This should be assessed, and communicated at each visit. It is also important to ask, "How do these new guidelines specifically apply to me?" Guidelines are for general population management, but each patient is different, and RA is a very heterogeneous (varied and complicated despite one name) disease. I have different considerations for each patient with RA that I walk into the room to see. A question I frequently hear is "Can I stop medications?" and the answer is an unqualified no; there are very compelling data for this, and it is addressed in these guidelines. But we know that if a patient has low disease activity or remission, especially if sustained, we can decrease or taper medications, and that is always a welcome message.
Vectra DA Tracks Disease Activity
References
1. Singh JA, Saag KG, Bridges SL Jr, et al. 2015 American College of Rheumatology guideline for the treatment of rheumatoid arthritis. Arthritis Care & Research. 2016;68(1):1-25. doi: 10.1002/acr.22783.
2. Smolen JS, Breedveld FC, Burmester GR, et al. Treating rheumatoid arthritis to target: 2014 update of the recommendations of an international task force. Annals of the Rheumatic Diseases. 2016;75(1):3-15. doi: 10.1136/ annrheumdis-2015-207524.
Kathleen Thomas, DO, was born and raised in Pittsburgh, Pennsylvania. She earned her medical degree from Lake Erie College of Osteopathic Medicine. After completing her internal medicine residency at Ball Memorial Hospital, she went on to complete her rheumatology fellowship at Indiana University School of Medicine. Dr. Thomas was in private practice for two years before joining Community Physician Network. She is board certified in rheumatology. Dr. Thomas enjoys practicing all aspects of rheuma­tology with a particular interest in inflammatory arthritis.