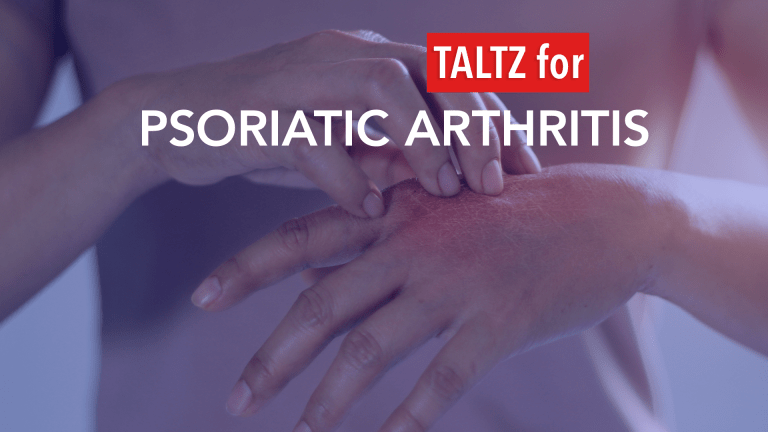 Taltz® Approved for the Treatment of Psoriasis
Taltz® Treatment of Psoriasis and Psoriatic Arthritis: improves Enthesitis and Dactylitis
The Food and Drug Administration (FDA) has approved the IL-17 inhibitor, Taltz® (ixekizumab) for use in adults with moderate to severe plaque psoriasis. Taltz is an antibody that binds interleukin (IL)-17A. Its safety and effectiveness were established in three large, comparative, placebo-controlled clinical trials that involved 3,866 participants with plaque psoriasis who were candidates for systemic therapy or phototherapy.
The results of these 3 pivotal studies (UNCOVER 1-3) demonstrated that Taltz achieved superior clinical responses compared to placebo. In all three studies, at 12 weeks, 87-90% of patients treated with Taltz saw a significant improvement in their plaque psoriasis. Importantly, 35-42% of individuals treated with Taltz experienced a complete resolution of their psoriasis plaque. Taltz was generally well tolerated and the most common side effects were upper respiratory infections, injection site reactions and fungal infections of the skin.
A recent analyses of Taltz treated psoriatic arthritis (PsA) patients with enthesitis or dactylitis shows this approach to yield significant improvements in both.
Individuals with PsA often have enthesitis and dactylitis which can be painful and inhibit normal joint function. Dactylitis also referred to as "sausage digit" is inflammation of an entire digit (a finger or toe) and can be painful. The word dactyl comes from the Greek word "daktylos" meaning "finger". The places where tendons and ligaments connect to bones are called entheses. Inflammation of these areas is called enthesitis and can cause new bone tissue to form limiting mobility.
Interleukin-17 (IL-17) inhibitors
Interleukin-17 is a protein produced by immune cells that functions as a messenger between cells playing an important role in inflammation and the symptoms associated with PsA. Antibodies that target the IL-17 pathways are used for the treatment of several conditions in which the IL-17 pathway has a role, including, psoriasis and psoriatic arthritis, IL-17 therapies available for the treatment of PsA include.
Cosentyx (secukinumab) is an anti-IL-17 monoclonal antibody that blocks the effects of IL-17 leading to an improvement in IL-17 associated symptoms.
Taltz (ixekisumab) is an anti-IL-17 monoclonal antibody that blocks the effects of IL-17.
The SPIRIT-P1 and SPIRIT-P2 clinical trials evaluated two doses of Taltz compared to a placebo in 679 individuals with PsA. As part of the trial enthesitis was assessed using the Leeds Enthesitis Index [LEI] and dactylitis assessed using the Leeds Dactylitis Index-Basic [LDI-B].
Evaluation performed 24 weeks after initial of treatment found that there was a total resolution of enthesitis in 39% of individuals. Overall 78% experienced complete resolution of dactylitis. In addition, significant improvements in function and quality of life were reported in patient experiencing resolution of enthesitis whereas dactylitis resolution was associated with more limited improvements.
Treating Autism: How Omega-3 Fish Oil Helps
Reduced social contact and the performance of repetitive activities are two behavioral traits that are altered in the neurodevelopmental condition known as an autism spectrum disorder (ASD).
Taltz more effective than Humira in Psoriatic Arthritis 
Taltz is a high-affinity monoclonal antibody that selectively targets interleukin-17A (IL-17A) and is currently approved by the US Food and Drug Administration (FDA) for the treatment of psoriasis and psoriatic arthritis.
The SPIRIT-H2H clinical study was designed as a large head-to-head (H2H) clinical trial to assess the effectiveness and safety of Taltz compared to Humira in individuals with active PsA who had not yet been treated with a biologic medication. Overall a total of 566 individuals with PsA were treated with either Taltz or Humira and compared at 24 weeks from initiation of treatment.
The study results were released by Lilly the manufacturer of Taltz. Taltz was reported to be superior to Humira in improving both the symptoms of PsA as measured by achieving a reduction in disease activity of at least 50 percent and for improving skin clearance of psoriasis.
Taltz was first approved in the United States in 2016 for treating plaque and the full trial date will be presented in 2019.
References
ard.bmj.com/content/77/Suppl_2/1025.1
FDA news release. Retrieved March 23, 2016, from FDA approves new psoriasis drug Taltz