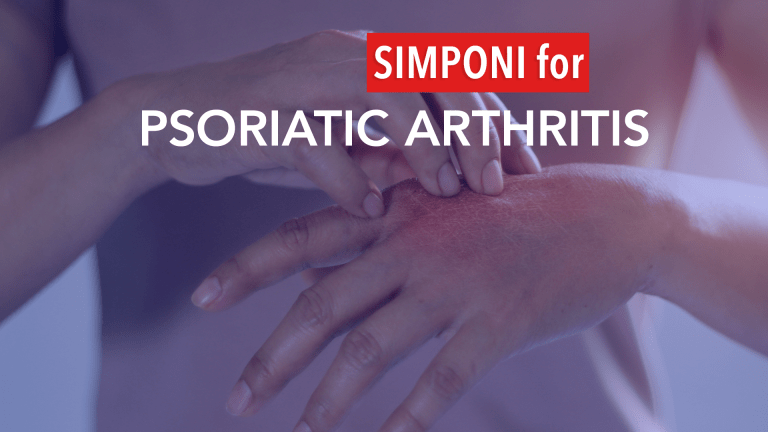 Simponi Effective Initial Therapy for Psoriatic Arthritis
Simponi®(golimumab)is one of five marketed TNF inhibitors(TNFi) that is FDA approved for use in psoriatic arthritis(PsA)
by Dr. C.H. Weaver M.D. 3/2019
A small comparative clinical trial in early psoriatic arthritis (PsA) has shown that first-line use of Simponi (golimumab) and methotrexate (MTX) is superior to MTX alone in inducing remission in individuals with PsA. The trial was published in the Feb, 2019 BMJ Annals of Rheumatic Diseases.
Psoriatic arthritis is a condition that stems from psoriasis, an autoimmune disease in which the body's immune system attacks the skin, resulting in scaly, red patches on the skin. In some psoriasis patients, the immune system attacks the joints as well, leading to inflammation and the condition known as psoriatic arthritis, or PsA. Symptoms of PsA are highly variable among patients, coming and going over time and affecting one or many joints of the body.
Simponi belongs to a class of medications called DMARDs, and aggressive DMARD therapy is ideal for most patients with inflammatory disorders including PsA. In order to further evaluate early treatment with Simpoinendoctors performed a small clinical trial enrolling 51 PsA patients who were MTX and DMARD-naive but with active disease at baseline (≥3 swollen joint count/tender joint count). Individuals were treated with either Simponi + MTX or MTX alone and directly compared
The primary endpoint evaluated in the trial was the number achieving Disease Activity Score (DAS) remission by week 22 which was achieved by 81% in the Simponi + MTX treated patients compared to only 42 % for those only receiving MTX and the difference was evident at week 8.
Early initiation of Simponi appears to be highly effective for the management of PsA.(1)
Treating Autism: How Omega-3 Fish Oil Helps
Reduced social contact and the performance of repetitive activities are two behavioral traits that are altered in the neurodevelopmental condition known as an autism spectrum disorder (ASD).
The initial approval of Simponi was based on a 259 patient, comparative clinical trial that demonstrated patients treated with subcutaneous Simponi experienced a significant response to treatment.
The results of the GO-VIBRANT study evaluating intravenous Simponi were released at the EULAR 2017 meeting and published in Arthritis & Rheumatology. In this clinical trial, 480 PsA patients were treated with either placebo or intravenous Simponi Aria 2 mg/kg (n=241) at weeks 0, 4, 12, and 20. The primary endpoint was a 20% improvement in signs and symptoms of PsA at week 14.
High-level responses were seen at the week 14 evaluations. The ACR20 was 75.1% for Simponi Aria treated patients compared to only 21.8% in the placebo group. A 50% improvement in signs and symptoms (43.6% vs 6.3%), and a 70% improvement in signs and symptoms (24.5% vs 2.1%) were also significantly better. In addition, significant radiographic improvement was also evident in Simponi Aria treated patients.(2)
While these intravenous results appear superior to those obtained with subcutaneously administered Simponi, this was not a head to head clinical trial directly comparing the intravenous and subcutaneous formulations.
References:
Achieving remission in psoriatic arthritis by early initiation of TNF inhibition: a double-blind, randomised, placebo-controlled trial of golimumab plus methotrexate versus placebo plus methotrexate
Kavanaugh, A., Husni, M. E., Harrison, D. D., Kim, L., Lo, K. H., Leu, J. H. and Hsia, E. C. (), Safety and efficacy of intravenous golimumab in patients with active psoriatic arthritis: Results through week 24 of the GO-VIBRANT study. Arthritis Rheumatol. Accepted Author Manuscript. doi:10.1002/art.40226