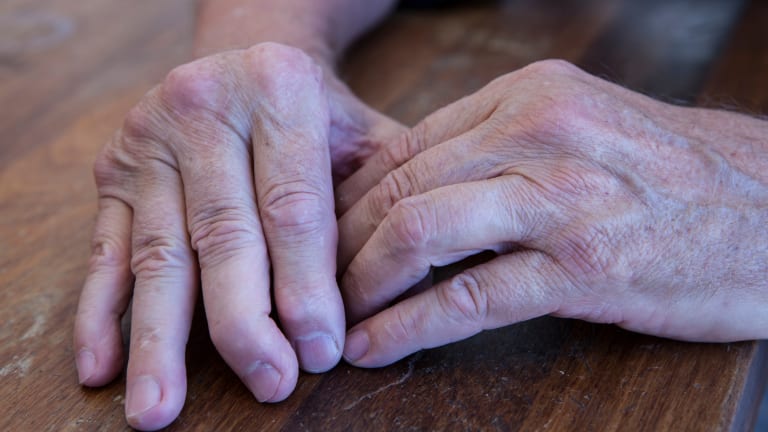 Management & Treatment of Psoriatic Arthritis
An overview of the types of medications used to treat Psoriatic Arthritis: DMARDS to NSAIDS
by Dr. C.H. Weaver M.D. Updated 11/2021
Advances in our understanding of psoriatic arthritis have led to earlier and more aggressive treatment of this condition.
Several different types of medications are now available, and decisions about which drug or combination of drugs to use will depend on your particular situation. Your rheumatologist will work with you to develop an individualized treatment plan.
During treatment, make sure that all of your healthcare providers are informed about all of your medications. This includes prescription medications, over-the-counter medications, and dietary supplements. Some products may not be safe to combine with other medications.
The goals of therapy for psoriatic arthritis is to control inflammation, decrease pain, maintain function, and prevent deformity with the fewest side effects. A therapeutic program will include non-drug and drug components.
Non-drug Therapies for Psoriatic Spondylitis
Maintenance of motion in the affected joints is a prime goal of therapy. Physical therapy can facilitate maximizing motion of the affected joints or spine. Home exercise programs can maintain Improvement in motion developed during physical therapy sessions.
Drug Therapies for Psoriatic Arthritis
Disease-Modifying Agents (DMARDs)
DMARDs are drugs that work more slowly than NSAIDs but have the capability of modifying the progression of disease. These drugs may have some benefit for arthritis in arms and legs but are not beneficial for spinal disease. Examples of DMARDs include sulfasalazine, methotrexate, and leflunomide.
Anti-Tumor Necrosis Factor Inhibitors (TNFi)
The inflammation that causes joint damage is mediated through a variety of cell messengers, cytokines. A number of biologic therapies are available to counteract the effects of these cytokines. A decrease in the production of or removal of a portion of tumor necrosis factor, a cytokine, can result in an improvement in arthritis pain and swelling. ANTI-TNF therapies available for the treatment of psoriatic arthritis include;
Enbrel (entarnercept) is a soluble receptor for TNF injected weekly.
Humira (adalimumab) is a fully human anti-TNF monoclonal antibody administered by injection every 2 weeks.
Simponi (golimumab) is a fully human anti-TNF monoclonal antibody that is injected monthly.
Cimzia (certolizumab) is an anti-TNF partial antibody connected to polyethylene gycol that prolongs the effect of the antibody that is injected every 4 weeks
Remicade (infliximab) is a monoclonal directed against TNF that is administered intravenously every 4 to 8 weeks.
The effectiveness of the TNF therapies shows no benefit of one agent compared to another. The use of specific agents in individuals is based on personal preference related to injections versus infusion and frequency of dosing.
Side effects associated with the use of TNF inhibitors include the activation of latent tuberculosis and increased risk of viral and bacterial infections. If infections occur, the infection is treated and the TNF therapy stopped until the infection is resolved. An increased risk of malignancy has been reported. However the degree of this increase which is reported to be small and is undergoing active evaluation.
Treating Autism: How Omega-3 Fish Oil Helps
Reduced social contact and the performance of repetitive activities are two behavioral traits that are altered in the neurodevelopmental condition known as an autism spectrum disorder (ASD).
Interleukin 12 and 23 Inhibitors
Interleukin (IL) 12 and 23 are released in increased amounts in skin of individuals with psoriasis. IL-23 stimulates the production of Th17 lymphocytes that are active in psoriasis and psoriatic arthritis. IL-12 stimulates CD4+ T lymphocytes to become activated facilitating an inflammatory response. Stelara (Ustekinumab) is a human monoclonal antibody directed against a common portion of both IL-12 and 23. The antibody blocks the receptor for IL-12 and 23 preventing activation.
Interleukin 17 inhibitors
Interleukin-17 is the cytokine released by Th-17 lymphocytes that drives some of the inflammatory response in psoriatic skin. Inhibition of IL-17 has been shown to have beneficial effects on the joint condition. The
Cosentyx (secukinumab) is an anti-IL-17 monoclonal antibody that blocks the effects of IL-17 leading to an improvement in IL-17 associated symptoms.
Taltz (ixekisumab) is an anti IL-17 monoclonal antibody that blocks the effects of IL-17.
Side effects associated with the use of IL-17 inhibitors include an increased risk of infections. Another very small risk is the development or worsening of inflammatory bowel disease.
Selective T-cell Costimulator Inhibitor
Activation of lymphocytes requires a sequence of signals between cells. Immune response that results in psoriatic arthritis is diminished if these secondary signals are blocked.
Orencia (Abatacept) is a fusion protein that inhibits antigen-presenting cells from delivering co-stimulatory signals that activate T cells. Orencia a CTLA4-Ig fusion protein was used initially for the treatment of RA, also showed benefit for patients with psoriatic arthritis .
Phosphodiesterarses (PDE 4) Inhibitors
Phosphodiesterases are enzymes that modify chemicals that are energy sources for cell function. Energy in these pathways results in the production of a number of cell products including those that result in disease inflammation. PDE4 has specificity for cyclic adenosine monophosphate and is found in inflammatory cells like B and T lymphocytes.
Otezla(Apremilast) is a PDE4 inhibitor that is effective in controlling the manifestations of psoriasis and psoriatic arthritis. As opposed to biologic agents with increased risk of infections and malignancy, gastrointestinal upset particularly diarrhea is the primary side effect of Otezla.
Non-steroidal anti-inflammatory drugs (NSAIDs)
NSAIDs, or aspirin-like drugs possess abilities to decrease pain, fever, and inflammation. They are anti-inflammatory and pain-relieving when given in larger doses long term. NSAIDs can decrease stiffness and relieve pain. In some patients, NSAIDs are adequate by themselves to control disease symptoms and improve function. There is also clinical evidence that NSAIDs may slow the calcification of boneu structures when taken on a chronic basis. A specific type of NSAID is the cyclo-oxygenase-2 inhibitor. Cyclo-oxygenase -2 enzyme produces cell messengers (cytokines) that initiate and sustain inflammation in tissues. COX-2 inhibitors prevent the production of these cytokines while having no effect on the products of COX-1 enzyme that is necessary for the normal function of the stomach and kidney.
References
Silman AJ, Hochberg MC. Epidemiology of the rheumatic diseases. 2nd edition: Oxford University Press; 2001.
Helmick CG, Felson DT, Lawrence RC et al. Estimates of the prevalence of arthritis and other rheumatic conditions in the United States. Part I. Arthritis & Rheumatism. 2008;58:15-25.
National Institutes of Health, National Institute of Arthritis and Musculoskeletal and Skin Disease. Handout on Health: Arthritis.