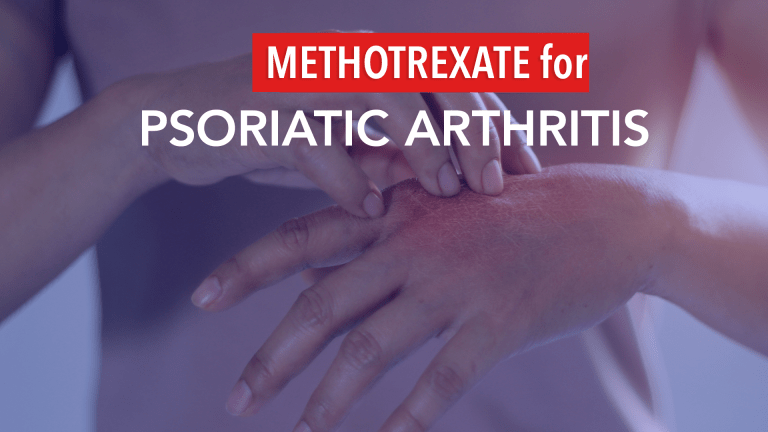 Is Methotrexate Alone the Best Initial Therapy for Psoriatic Arthritis?
New study suggests Enbrel alone more effective than MTX or combination.
by Dr. C.H. Weaver M.D. 1/2020
Historically, Methotrexate (MTX) has been utilized as first-line therapy for treatment of Psoriatic Arthritis (PsA). This recommendation is based more on the cost of therapy than actual research supporting the use of MTX. The results of a pivotal clinical study suggest that Enbrel (etanercept) may be a superior initial treatment choice than MTX.
About Enbrel
Enbrel is a type of biologic disease-modifying anti-rheumatic drug (DMARD) known as a TNF inhibitor. TNF is a protein that contributes to the inflammation of RA and several other conditions, and Enbrel reduces the level of active TNF in the body.
The SEAM-PsA clinical trial was designed to evaluate the effectiveness of MTX and Enbrel monotherapy, or the combination of MTX and Enbrel in psoriatic arthritis patients. Overall 851 patients with PsA were randomized to receive treatment with either oral MTX, Enbrel, or Enbrel plus MTX. The primary and secondary outcomes evaluated in the clinical trial were the American College of Rheumatology (ACR)20 response to treatment and Minimal Disease Activity (MDA) response assessed at 24 from the initiation of treatment.
The study found that Enbrel monotherapy was superior to treatment with MTX alone as assessed by both clinical and radiographic responses. In addition, Enbrel monotherapy was equivalent to combination therapy revealing that MTX added no additional benefit to treatment with Enbrel alone.
Treating Autism: How Omega-3 Fish Oil Helps
Reduced social contact and the performance of repetitive activities are two behavioral traits that are altered in the neurodevelopmental condition known as an autism spectrum disorder (ASD).
Individuals with PsA considering treatment should discuss the risks and benefits of treatment with MTX and Enbrel with their treating physician.
Reference: