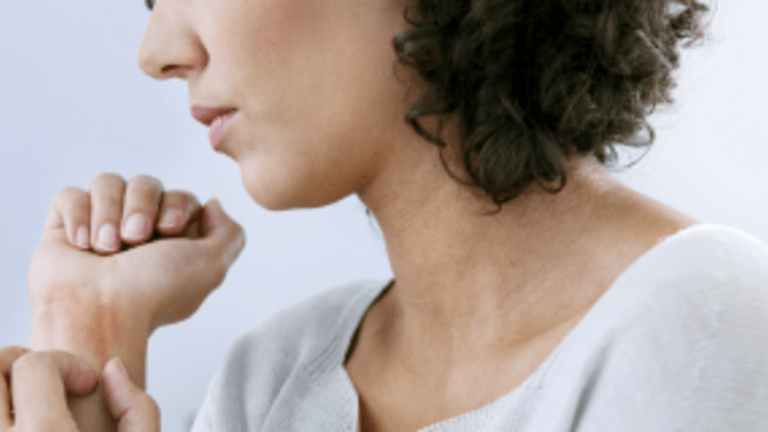 Biologics Offer Relief for People with Psoriasis
Newer biologic medications are giving patients more effective methods of reducing symptoms of psoriasis.
by Mia James, Medically Reviewed by Dr. C.H. Weaver M.D. 11/2021 
Vickie Wilkerson was working in her yard when she noticed a dry patch of skin on her upper left leg that seemed like poison ivy. After two weeks with no improvement, she made an appointment to see her primary care doctor, who immediately diagnosed the thick, scaly red patch as psoriasis. At the time, there were few options for treatment and her dermatologist suggested that she try a topical cold tar ointment, but the remedy reeked, ruined her clothes, and did little to relieve the psoriasis.
Slowly, the disease spread to other areas, including her arms, trunk, scalp and legs, until 80 percent of her body was covered with dry patches that sometimes itched, cracked and bled. She tried one topical treatment after another, but nothing seemed to work. Then the disease spread to her joints and she began suffering from pain in her lower back, right knee and right hip, a condition known as psoriatic arthritis. She could only walk for 30 minutes at a time, and she felt self-conscious when people stared at the parts of her skin she couldn't cover with clothing.
Seven years after she'd been diagnosed, Vickie started to have hope that her condition could improve when her doctor prescribed Humira (adalimumab), a biologic medication that that binds to and blocks a specific protein in the immune system to help reduce the inflammation that leads to psoriasis. She injected herself with the medication every other week, but after six months, it was clear that the new drug wasn't working.
"I went into a complete depression when it didn't help," says Vickie, 47, of Shreveport Louisiana. "My life was so limited because I'd given up the outdoor activities I loved, and I didn't know if things would ever change."
Although Humira was not effective in Vickie's case, an explosion of new biologic treatments in the last decade meant she had a number of other alternatives. In 2015, she started taking Stelara (ustekinumab)—which was approved by the Food and Drug Administration in 2009—and within weeks the psoriasis began disappearing. After six months, 90 percent of her body was clear.
"It was my wonder drug," says Vickie. "I could start wearing shorts in the summer time, and I have a much better self-image because I'm not constantly feeling self-conscious."
The Origins of Psoriatic Arthritis
Psoriasis, which affects about 7.5 million people nationwide, is a chronic inflammatory disease of the immune system that targets the skin and joints, though it can occur in the nails, soft tissues of the genitals and inside the mouth. It is the most prevalent autoimmune disease in the United States, and although there are different forms, the majority of patients are diagnosed with plaque psoriasis. This type is characterized by patches of raised, reddish skin covered with silvery-white scales. Having a family history of psoriasis increases risk, and triggers such as stress, injury to the skin, infection and certain medications seem to play a part in the onset and flare-ups of the disease.
Almost one third of patients experience psoriatic arthritis, and people with psoriasis also have increased chances of having conditions related to metabolic syndrome. (1)These conditions include obesity, high blood pressure, high blood sugar and high cholesterol, which increases the risk of heart disease, diabetes and liver disease. Early studies are showing that biologics may reduce the risks of problems associated with these metabolic conditions, such as heart attacks.(2)
Before biologics were widely available, initial treatment included systemic medications that suppress the entire immune system rather than targeting overactive cells or specific proteins involved in the immune system. Prior to taking Humira and Stelara, Vickie tried a systemic medication called methotrexate, but she saw little improvement in the psoriasis and the side effects of nausea, headaches and fatigue were so severe that she stopped taking the drug after a year. Although Vickie didn't benefit from the medication, studies show that it's effective in about 40 percent of patients.(3)
A New Era in Treatment
Once researchers discovered that it was possible to genetically engineer proteins that could inhibit specific components of the immune system, there was a proliferation of new medications that led to dramatic improvement in patients. TNF inhibitors such as Humira, for example, target the physiologic response to the tumor necrosis factor that prompts the body to create inflammation.
"Humira is also beneficial for people with psoriatic arthritis because it can inhibit the progression of joint damage," says David Rosmarin, director of clinical trials in Tufts Medical Center's dermatology department. Patients inject themselves with the medication every other week in the abdomen or thigh, and the potential side effects include skin reactions at the injection site and a slightly increased risk of infection and tumors.
Similar to the TNF inhibitors, Stelara binds to proteins in the immune system, but this drug targets proteins called interleukin 12 and interleukin 23. It's administered as an injection by a health provider or at home once every three months In July, the FDA approved another biologic for psoriasis called Tremfya (guselkumab), which targets interleukin 23 in the immune system.
In many cases, these drugs work for a period of time, but eventually the body develops resistance to the medication and patients switch to a new one. Vickie recently noticed dry patches of skin on her hands, and her doctor suggested that she consider switching from Stelara to one of the newer biologics called Cosentyx (secukinumab), which targets a protein called interleukin 17A. This drug has been shown to reduce symptoms of psoriatic arthritis by 50 percent in about one third of patients, and fewer patients taking Stelara achieve this level of arthritis relief. (3,4)Vickie acknowledges that Stelara has done little to relieve the pain from psoriatic arthritis, and she hopes the new drug will decrease these symptoms. Once she receives approval for insurance coverage for the new medication, she plans to make the switch.
In the last few years, an oral treatment has also become available called Otezla (apremilast). This drug targets an enzyme inside immune cells to reduce the redness and scales on the skin as well as the joint tenderness and swelling in people with psoriatic arthritis. Patients who prefer to take medication in the form of a pill rather than injections may benefit from this option if the drug effectively reduces the symptoms of psoriasis.
How to choose a treatment
Although new medications are available, patients are not always taking advantage of these innovative treatments, says April Armstrong, a dermatologist at University of Southern California's Keck School of Medicine and a medical board member for the National Psoriasis Foundation.
"I see a lot of patients who come in after a long journey of trying many things that haven't worked, such as alternative therapies and different diets," says Dr. Armstrong. "Before you try something new, think about the evidence behind the therapy."
With the variety of medications available, patients have the flexibility to choose a treatment option based on factors such as how quickly they want their skin clear, the history of outcome data, potential side effects, cost, and how and when the drug is administered.
Judith Poe, 30, of San Francisco, was willing to live with the side effects of the TNF inhibitor Enbrel (etanercept) when she started taking the medication in college because she was so relieved to see her skin clear. She experienced her first symptoms at the age of 2 after having strep throat, and never felt comfortable swimming, wearing tank tops or seeing people glance at her dry, scaly skin. Although she was pleased with her response to Enbrel, the drug made her more susceptible to infections. She remembers taking antibiotics for strep throat more than a dozen times each year during the four years she was on Enbrel. When Judith switched to Humira, she delighted in the fact that her skin was nearly 100 percent clear—without the episodes of strep throat.
But after four years, the drug stopped working and she started taking Stelara, which was also highly effective. After a year, though, the psoriasis returned and she switched to Cosentyx. Although Judith knows she will never be cured of psoriasis, she's grateful that the medications available today have alleviated her symptoms and consequently eliminated the self-consciousness she used to battle with daily.
"The medications have completely changed my quality of life," she says. "I can wear the clothes I want to wear and be normal, and that was something I had never experienced before."
APPROVED MEDICATIONS FOR PSORIASIS AND PSORIATIC ARTHRITIS
Tumor necrosis factor-alpha (TNF-alpha) inhibitors
Simponi (golimumab (for psoriatic arthritis only)
Cimzia (certolizumab pegol) (for psoriatic arthritis only)
Interleukin 12 and 23 (IL-12/23) inhibitors
Interleukin 17 (IL-17) inhibitors
Interleukin 23 (IL-23) inhibitors
PDE4 inhibitor
T cell inhibitors
Traditional systemics
Acitretin (Soriatane)
Cyclosporine
References: