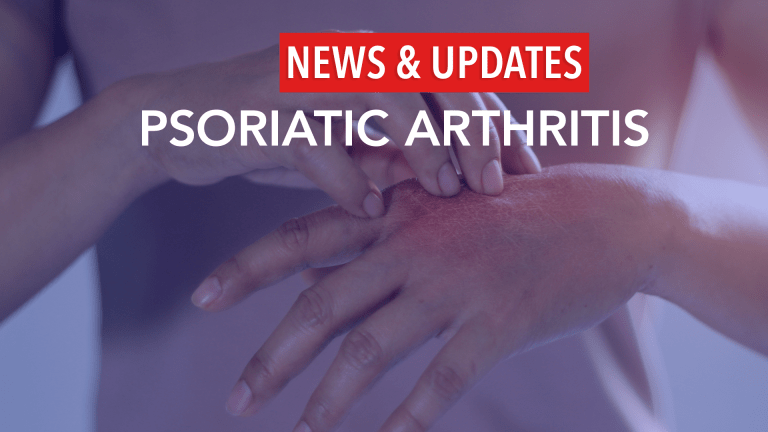 Better Outcomes with Intensive Treatment in Psoriatic Arthritis
Better Outcomes with Intensive Treatment in Psoriatic Arthritis
by Dr. C. H. Weaver M.D. Updated 09/21
Intensive treatment of psoriatic arthritis (PsA) with the goal of reducing disease activity as much as possible appears to improve outcomes. These findings were presented at the 2015 British Society for Rheumatology annual conference, April 28–30, in Manchester, United Kingdom.
Psoriatic arthritis is a condition that stems from psoriasis, an autoimmune disease in which the body's immune system attacks the skin, resulting in scaly, red patches on the skin. In some psoriasis patients, the immune system attacks the joints as well, leading to inflammation and the condition known as psoriatic arthritis, or PsA. Symptoms of PsA are highly variable among patients, coming and going over time and affecting one or many joints of the body.
A treatment goal known as treat to target or tight control has been proven effective in the management of rheumatoid arthritis (RA). With a tight control approach, doctors treat the disease with the goal of reaching a certain set standard for minimal disease activity (MDA). In RA, this approach has been linked with reaching and maintaining disease remission. So far, however, there has been less research into the effects of tight control on PsA.
Researchers in the UK designed a trial to measure the benefits of treating patients with PsA until the met standards for tight control of disease activity. They defined tight control by minimal disease activity (MDA) criteria—an established scoring system for disease activity in PsA. Their goal was to determine if this intense treatment could improve outcomes compared with standard treatment.
For disease activity to qualify as MDA, patients must report meeting certain requirements for reduced disease activity. These include fewer tender or swollen joints; patient reports of reduced symptoms; and a score known as the Psoriasis Area Severity Index (PASI), which indicates severity of psoriasis and percentage of skin surface affected.
The study, known as Tight Control of Psoriatic Arthritis (TICOPA) study, included 206 patients with PsA. The researchers divided the patients into two groups: one group received intensive treatment in order to reach tight control, and the other group received standard care.
The patients in the intensive treatment group started treatment with methotrexate (a drug commonly used in the treatment of RA) once per week at a dose of 15 mg/kg. At six weeks, the dose was increased to 25 mg/kg if PsA disease activity did not appear to be decreasing. Patients whose disease activity was not substantially decreased after four to eight weeks of treatment continued to receive methotrexate and additional drugs to address inflammation and immune response in PsA.
To measure response to treatment, the researchers used criteria set by the American College of Rheumatology (ACR). The ACR scores include ACR20 (an improvement in symptoms of 20%), ACR50 (an 50% improvement) and ACR70 (a 70% improvement). After 12 months of treatment, almost 20% more patients in the intensive treatment group had reached ACR20 than in the standard care group (62% versus 45%, respectively). More patients in the intensive group also reached ACR50 (51% versus 25%) and ACR70 (38% versus 17%).
When the researchers evaluated skin symptoms of PsA using PASI, they found that patients who received intensive therapies had better results than the standard care group. More patients who received intensive therapy responded to treatment across all level of the PASI index, with almost twice as many in the intensive group reaching a 90% response (40% versus 20%).
While intensive treatment appeared to improve certain measures of disease activity in PsA, it didn't appear to have much of an effect on changes to joints observed on X-ray. The researchers, however, explained that this wasn't a big concern, as there weren't many changes seen on X-ray in the study as a whole.
Patients who received intensive treatment experienced more side effects than those who received standard treatment. But, according to the researchers, not all of these complications were the result of treatments used for the study and some were known complications of methotrexate.
According to these findings, tight control of PsA does appear to result in better outcomes for patients. Moving forward, researchers will consider whether the intensive approach is cost effective compared with standard care and if all types of PsA, or clinical subgroups, might benefit from intensive treatment.
References:
Multiple Benefits Seen with Intensive Psoriatic Arthritis Therapy," Global Academy for Medical Education, May 22, 2015, globalacademycme.com/click-for-credit/single-article/bsr-multiple-benefits-seen-with-intensive-psoriatic-arthritis-therapy/3a735c31ff0bdaa46dd08bfe22bfbfc2.html.
Coates LC, Helliwell PS. Treat to target in psoriatic arthritis-evidence, target, research agenda. Curr Rheumatol Rep. 2015 Jun;17(6):517. doi: 10.1007/s11926-015-0517-0.