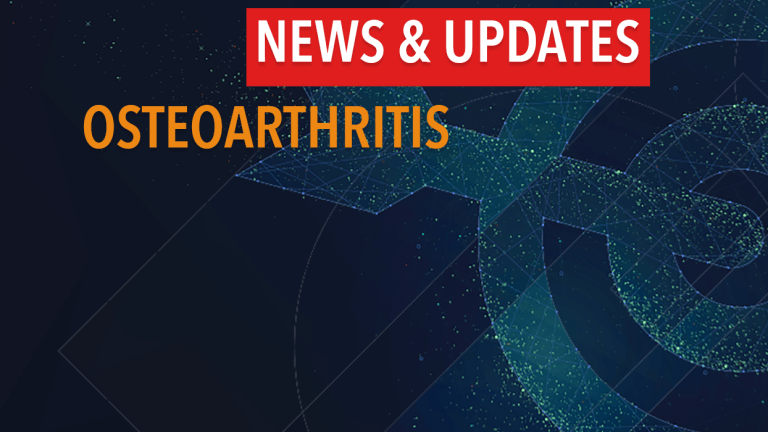 Fasinumab Anti Nerve Growth Factor
Fasinumab May Improve Analgesic-Resistant Osteoarthritis Pain, Function
by Dr. C. H. Weaver M.D. 12/2019
Fasinumab improve pain and function in patients with hip or knee arthritis who no looker derive relief from currently available analgesics according to study results published in Arthritis & Rheumatology.
About Fasinumab
Fasinumab is a a recombinant, fully - human anti-nerve-growth-factor antibody. It specifically blocks [nerve growth factor (NGF)] to treat pain and may obviate many of the side effects of currently used analgesic medications, such as opioids and nonsteroidal anti-inflammatory drugs (NSAIDs), which treat pain and inflammation differently.
In the current study 421 patients with moderate to severe knee or hip osteoarthritis and a history of inadequate response or intolerance to analgesics were treated with one of several different doses of fasinumab or a placebo every 4 weeks over a period of 16 weeks.
Study results demonstrated that patients receiving all 4 doses of fasinumab had significantly greater reductions in pain scores by the start of the secnd week of treatment and this was maintained throughout treatment.
Treating Autism: How Omega-3 Fish Oil Helps
Reduced social contact and the performance of repetitive activities are two behavioral traits that are altered in the neurodevelopmental condition known as an autism spectrum disorder (ASD).
A total of 25 arthropathies occurred in 7% of patients in fasinumab treated patients in a dose-dependent manner, with 2 occurring among patients in the 1-mg group compared with 12 in the 9-mg group.
Fasinumab may represent a new approach to managing joint pain however additional studies are required to determine the optimal dose. The researchers of the current study stated "The observation that the efficacy of lower doses was similar to that of higher doses but was associated with lower rates of arthropathy demands that future studies explore the benefit [vs] risk at these lower doses of fasinumab,"
Reference
Dakin P, DiMartino SJ, Gao H, et al. The efficacy, tolerability, and joint safety of fasinumab in osteoarthritis pain: a phase IIb/III double-blind, placebo-controlled, randomized clinical trial [published online June 17, 2019]. Arthritis Rheumatol. doi:10.1002/art.41012