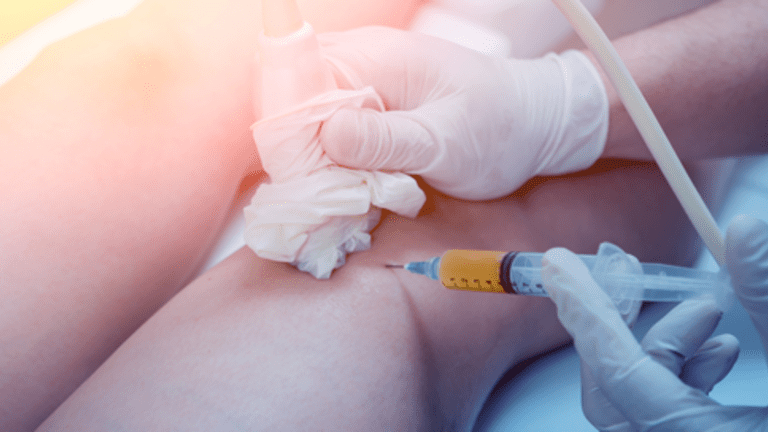 Cortisol - Steroid Injections for Arthritis. Does Physical Therapy Better?
Understand the role of Cortisone injections to manage joint pain + Answers to Frequently Asked Questions
by Dr. David Borenstein, Medically Reviewed by Dr. C.H. Weaver M.D. 4/2022
Glucocorticoids are medicines used to reduce pain and inflammation. They may also be called corticosteroids or even "steroids" for short. They're most commonly injected into joints — such as your ankle, elbow, hip, knee, shoulder, spine and wrist. Even the small joints in your hands and feet might benefit from cortisone shots. (1,2)
The purpose of the corticosteroid injection is to reduce the irritation caused by local joint inflammation which is what happens when the cartilage wears away. The effect, though temporary, can provide significant relief for some patients. However, these injections do not work well for all patients. That may be because the arthritis is too far advanced or because it is difficult to locate the joint space due to bulky joints or other deformities (though ultrasound can help guide the doctor as to where to place the injection).
How long will a cortisone injection work?
The beneficial effect of a cortisone injection lasts for an average of two months. Any candidate for a steroid injection may receive physical therapy, supportive bracing and oral or topical medication to maximize their response to the injection. The extent of arthritis progression and overall health are two important factors that affect how long the relief from the injection will last.
How effective are cortisone injections?
Treatment options for painful knee osteoarthritis (OA) are numerous, but comparative outcomes are seldom available. A NEJM report found that physical therapy is superior to intraarticular cortisone injection assessing the outcomes 12 months after the intervention. A randomized clinical trial compared physical therapy against glucocorticoid injection in knee OA patients in the U.S. Military Health system and found a more sustained benefits (less pain and functional disability) when osteoarthritis of the knee is managed with physical therapy compared to intraarticular cortisone injection. (3)
How often can cortisone injections be given?
Individuals shouldn't have corticosteroid injections into any given joint more than once every three to four months. Too many injections can increase the risk of side effects, such as avascular necrosis, which is a lack of blood flow to a part of the bone that causes it to collapse. Other side effects include nerve damage and thinning of nearby bone. Because the injections are formulated as slow-release crystals, patients can, in the short term, develop irritation in the joint similar to gout, and, rarely, develop infection.
American College of Rheumatology Recommendations
Oral or topical NSAIDs or the use of steroid injections for patients with hip or knee OA who do not have a satisfactory response to full-dose acetaminophen are recommended. The ACR does not recommend corticosteroid injections for people with hand OA.
What Are Possible Side Effects of Corticosteroid Injections?
Nerve damage
Thinning of nearby bone and/or fat tissue
Irritation in the joint similar to gout (because the injections are formulated as slow-release crystals)
Infection (though this is rare).
Increased glucose levels in diabetics
Avascular necrosis of the joint
The chances of having these side effects depend on how often you get the injections and whether you have other medical conditions.
Monitor for Side Effects
You and your doctor should be on the lookout for any of the above side effects. If you experience any pain or other symptoms around the joint that was injected, bring it to your doctor's attention.
References:
https://www.rheumatology.org/Portals/0/Files/ACR%20Recommendations%20for%20the%20Use%20of%20Nonpharmacologic%20and%20Pharmacologic%20Therapies%20in%20OA%20of%20the%20Hand,%20Hip%20and%20Knee.pdf