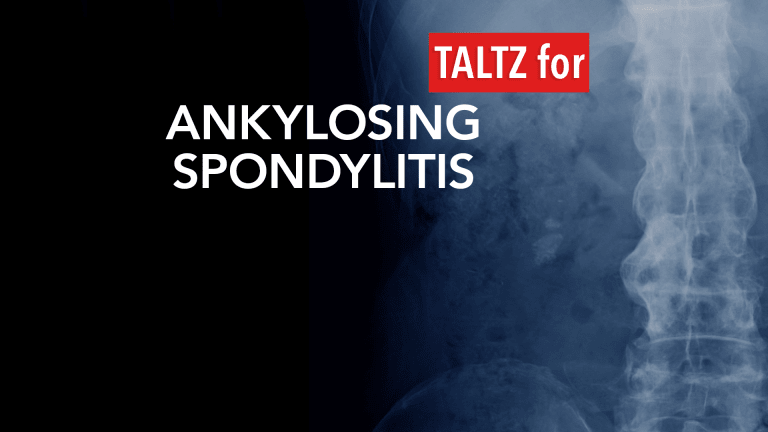 Taltz: A New Biologic Therapy for Ankylosing Spondylitis
Lancet study demonstrates Taltz is effective treatment for ankylosing spondylitis - leads to FDA approval.
by Drs. David Borenstein M.D. & C.H. Weaver M.D. updated 9/2019
Taltz (Ixekizumab) is a biologic, anti-IL-17A antibody that was initially approved by the US Food and Drug Administration (FDA) for the treatment of psoriasis and psoriatic arthritis. Clinical trial results published in Lancet for the pivotal phase 3 COAST-V clinical trial suggested Taltz would be an effective treatment option for ankylosing spondylitis (AS) and radiographic axial spondyloarthritis (r-AxSpA). The FDA agreed and approved Taltz for the treatment of adults with AS and r-AxSpA in August 2019.
Biological disease-modifying anti-rheumatic drugs (bDMARDs) are recommended for r=AxSpA, otherwise known as ankylosing spondylitis, when conventional therapies are not effective. Taltz is a high-affinity monoclonal antibody that selectively targets interleukin-17A (IL-17A), in patients with r-AxSpA who have not previously been treated with bDMARDs.
The COAST-W clinical trial evaluated the effectiveness and safety of Taltz for the treatment of AS in difficult-to-treat patients who had failed one or two anti-tumor necrosis factor antibody therapies. The COAST-V clinical trial enrolled 341 patients with AS who were subsequently treated with Taltz, Adilumamab (ADA) or placebo (no treatment). Individuals response to treatment was assessed 16 weeks from the initiation of treatment. Individuals who participated in the study were on average 41 years of age and had AS an average of 16 years.
Overall 40% of Taltz treated patients experienced significant improvement in symptoms associated with active AS. Compared to placebo, Taltz was significantly better for controlling disease activity as measured by an improvement in spinal and sacroiliac joint inflammation, as well as an improving functional disability when compared to placebo. Both Taltz and ADA both worked well at controlling disease activity. No significant increase in adverse events like serious infections was noted.
Treating Autism: How Omega-3 Fish Oil Helps
Reduced social contact and the performance of repetitive activities are two behavioral traits that are altered in the neurodevelopmental condition known as an autism spectrum disorder (ASD).
Results from both the COAST-W and COAST-V clinical trials demonstrated that Taltz treated patients had clinically meaningful improvements in their symptoms. In the COAST-V study, 48% of patients treated with Taltz responded to treatment compared to 18% of untreated patients. In COAST-W twice as many Taltz treated patients responded compared to a placebo. Taltz helped reduce pain and inflammation and improve function in patients who had never been treated with a bDMARD as well as those who previously failed TNF inhibitors.
Understand Treatment Options for Ankylosing Spondylitis
Results from the COAST trials led to FDA approval. Targeting the IL-17 receptor appears to be an effective approach for treating AS; Cosentyx is another anti-IL-17 antibody that is effective in the treatment of AS and is already approved by the FDA for psoriatic arthritis, and psoriasis.
References:
Ixekizumab, an interleukin-17A antagonist in the treatment of ankylosing spondylitis or radiographic axial spondyloarthritis in patients previously untreated with biological disease-modifying anti-rheumatic drugs (COAST-V): 16 week results of a phase 3 randomised, double-blind, active-controlled and placebo-controlled trial
Van der Heijde et al. Ixekizumab significantly improves signs, symptoms, and spinal inflammation of active ankylosing spondylitis/radiographic axial spondyloarthritis:16-week results of a phase 3 randomized, active and placebo-controlled trial (abstract 1864) Arthritis Rheumatol 2018;70(suppl 10)