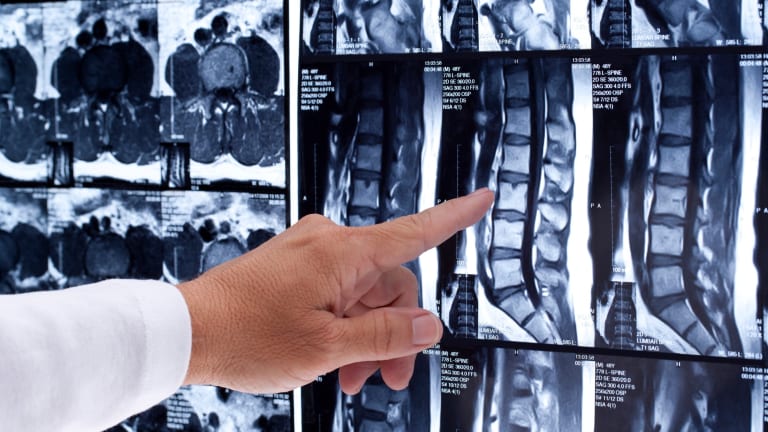 Non-radiographic Ankylosing Spondylitis Symptoms Improved with Biologic Therapy
The IL-17A inhibitors Taltz and Cosentyx improve symptoms in non-radiographic Ankylosing Spondylitis
by Dr. David Borenstein M.D. 12/2020
Spine Community News Non-radiographic (nr) axial spondyloarthritis (nr-axSpA) is considered an early phase of AS that occurs before x-ray findings of AS are visible and is associated with significant back pain and fatigue. These patients however do have findings identifiable on magnetic resonance imaging (MRI) of the sacroiliac joints.
Interleukin-17 (IL-17)inhibitors
Interleukin-17 is a protein produced by immune cells that functions as a messenger between cells playing an important role in inflammation and the symptoms associated with AS, including morning stiffness, limited spine motion, and overall fatigue. Antibodies that target the IL-17 pathways are used for the treatment of several conditions in which the IL-17 pathway has a role, including AS and now based on new publications, nr-AS. Cosentyx (secukinumab) and Taltz (ixekisumab) are both anti-IL-17 monoclonal antibody that block the effects of IL-17 leading to an improvement in IL-17 associated symptoms.
Cosentyx (secukinumab) which is an anti-IL-17A biologic drug that is already approved for the treatment of AS was evaluated in the PREVENT clinical trial in nr-AS patients and the data was recently published at the 2019 American College of Rheumatology meeting.
In the PREVENT study 555 individuals with nr-AS patients were treated with Cosentyx 150 mg with or without a loading dose or placebo followed by monthly injections. The response to treatment was evaluated at 16 weeks from the initiation of therapy and the researchers reported a 40% improvement in a variety of symptoms including pain. Overall pain improvement occurred in 42% of the nr AS patients that received the loading dose. The treatment was well tolerated, and the no additional side effects were reported.
Treating Autism: How Omega-3 Fish Oil Helps
Reduced social contact and the performance of repetitive activities are two behavioral traits that are altered in the neurodevelopmental condition known as an autism spectrum disorder (ASD).
Taltz (ixekizumab) is an anti-IL-17A biologic therapy that is approved for the treatment of AS and nrAS. The COAST-X phase 3 clinical trial was designed to evaluate its effectiveness for the management of nr-AS. A total of 303 patients were treated with Taltz 80 mg every 2 weeks or very 4 weeks and compared to individuals with nr AS not receiving a biologic therapy. Improvement of pain and other symptoms was confirmed for both doses of Taltz at 16 weeks and 1 year from treatment compared to individuals who remained untreated with a biologic leading to FDA approval
Both studies suggest that anti- IL-17 therapies know to be effective for AS are also effective for the management of nr-AS. Side effects associated with the use of IL-17 inhibitors include an increased risk of infections. Another very small risk is the development or worsening of inflammatory bowel disease.
References:
Deodhar A et al. Secukinumab 150 mg Significantly Improved Signs and Symptoms of Non-radopgraphic Axial Spondyloarthritis: Results from a Phase 3 double-blind, Randomized, Placebo-controlled Study (abstract L21) Arthritis Rheumatol 2019;71 (suppl 10)
Deodhar A et al. Ixekizumab in Non-Radiographic Axial Spondyloarthritis: Primary Results from a phase 3 Trial .(abstract 2729) Arthritis Rheumatol 2019;71 (suppl 10)