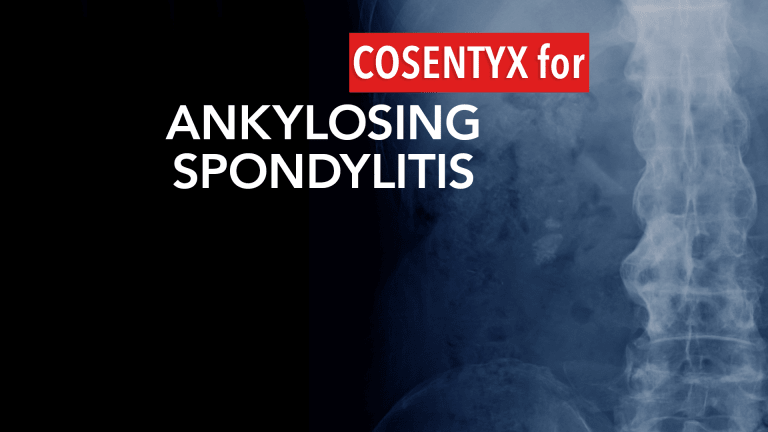 Long-term Benefit of Cosentyx in Ankylosing Spondylitis
Spine Community News:
by Dr. David Borenstein M.D. Updated 09/21
Cosentyx (secukinumab) is an anti-interleukin-17A monoclonal antibody that is approved for the treatment of ankylosing spondylitis (AS). Cosentyx is known to be effective for treating the symptoms of AS, but the duration of effectiveness remains to be determined.
Doctors from North America and Europe recently reported on the effectiveness, safety, and tolerability of Cosentyx in the treatment of AS measured over a 52 week period. In their study a total of 226 patients were divided into three different groups. These groups were treated with Cosentyx: 150 mg subcutaneously, 300 mg, or a placebo every 4 weeks. The three treatment groups were directly compared by assessing the benefit of treatment at 16 and 52 weeks from the initiation of therapy. Overall there was a 40% improvement from treatment with both the 300 mg and 150 mg dose. Among the 199 patients who completed 52 weeks of treatment, 40% improvement was seen in 53.9% and 40.5% of the 300 mg and 150 mg groups, respectively and both were superior to placebo.
The most common adverse events were nasopharyngitis, diarrhea, and headache. During the entire 52 weeks, severe adverse events were 4.8 events per 100 patients occurred. Candida infections that occurred were cured with standard therapy. This frequency of adverse events was decreased compared to earlier clinical trials with Cosentyx. Although a potential development of inflammatory bowel disease is possible with Cosentyx, no events occurred during the year-long study. This study suggests that both 300 mg and 150 mg doses of Cosentyx are very effective and well tolerated for the treatment of AS and the treatment is effective over an extended period of time. The patients in this trial continue to be followed and an additional reports is planned after 3 years of follow up.
Treating Autism: How Omega-3 Fish Oil Helps
Reduced social contact and the performance of repetitive activities are two behavioral traits that are altered in the neurodevelopmental condition known as an autism spectrum disorder (ASD).
Reference:
Pavelka K et al. Efficacy, safety, and tolerability of Cosentyx in patients with active ankylosing spondylitis: a randomized, double-blind phase 3 study, MEASURE 3. Arthritis Res Ther 2017; 19:285 DOI 10.1186/s13075-017-1490-y