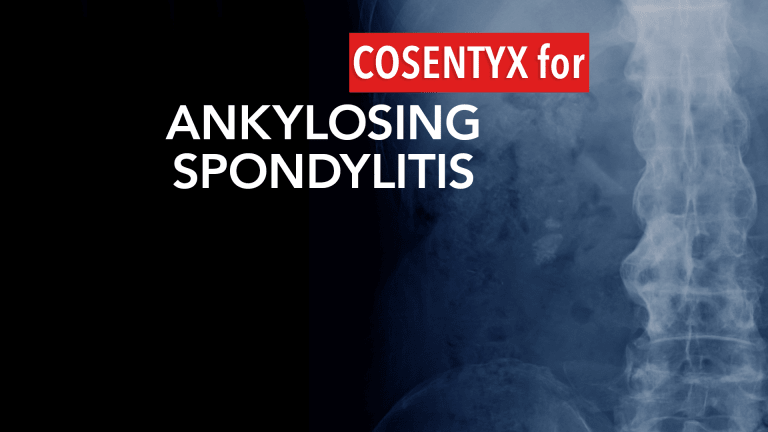 Cosentyx® Treatment Benefits Ankylosing Spondylitis Patients Up to 5 years
Research suggests that Cosentyx offers sustained improvement of ankylosing spondylitis symptoms.
by Dr. David Borenstein updated 9/2019
Study results presented at the 2018 American College of Rheumatology Annual Meeting in Chicago from the phase III MEASURE 1 clinical trial evaluating Cosentyx® (secukinumab) in patients with ankylosing spondylitis (AS) confirm that Cosentyx provides sustained improvements in the signs and symptoms of and AS out to five years. (1,2)
About Ankylosing Spondylitis
Ankylosing spondylitis is a chronic, inflammatory disease that primarily attacks the spine, but can also cause pain and stiffness in other areas of the body. AS usually affects young adults and symptoms tend to start between 20 and 30 years of age but some individuals with AS start to experience symptoms earlier. Overall ~ 2% of individuals in the United States will have AS, and AS tends to run in families. Genetic predisposition is related to the presence of a specific genetic marker, Histocompatibility Leucocyte Antigen (HLA) – B27.
The following symptoms suggesting AS related to inflammation of the musculoskeletal system
Nocturnal back pain
Prolonged morning stiffness of the spine lasting hours
Spine stiffness associated with sitting for variable lengths of time
Back pain improvement with exercise
Eye inflammation – iritis
Radiating leg pain – pseudosciatica
About Cosentyx®
Cosentyx belongs to a class of drugs known as monoclonal antibodies. Cosentyx produces its anti-inflammatory effects by selectively binding to a proinflammatory protein (interleukin-17A cytokine, or IL-17A) that has been secreted from a cell. IL-17A is a naturally occurring cytokine that is involved in normal immune and inflammatory responses. By binding to IL-17A, Cosentyx disrupts the signaling pathway to the IL-17A receptors on other cells, thus inhibiting the release of IL-17A's inflammatory and immune response effects. (1)
The results of the MEASURE 1 clinical study presented at the ACR meeting were from 274 patients treated with Cosentyx for a total time on treatment of 5 years. Overall the sustained use of Cosentyx was well tolerated without the emergence of new side effects. The AS patients treated with Cosentyx has persistent benefit that was sustained over the entire 5-year period. In general patients receiving a 150 mg dose of Cosentyx did better than those treated with 75mg.
Treating Autism: How Omega-3 Fish Oil Helps
Reduced social contact and the performance of repetitive activities are two behavioral traits that are altered in the neurodevelopmental condition known as an autism spectrum disorder (ASD).
Importantly, the treatment was well tolerated with minimal side effects and no new safety concerns were reported. There was no increase in infections or malignancies reported. (2)
AS was once a chronic debilitating disease with few treatment options. Cosentyx is an effective treatment for AS and the benefits from Cosentyx treatment can be sustained over a 5-year period at a minimum which now offers hope to AS patients that they live more functional and pain free lives.
More About the MEASURE 1 Clinical Trial
MEASURE 1 is a two-year, multi-center, randomized, placebo-controlled Phase III study assessing the efficacy and safety of Cosentyx in patients with active AS. Primary endpoints assessed superiority of Cosentyx against placebo at Week 16 in patients who achieved at least a 20% improvement in the ASAS 20 response (Assessment of Spondyloarthritis International Society response criteria). From Week 16, patients in the placebo arm of the study were re-randomized to Cosentyx 75 mg or 150 mg based on ASAS 20 response, with non-responders switched at Week 16, and responders at Week 24.
A total of 290 of 371 patients completed the trial, after which 274 patients entered a three-year extension period. Over 80% of patients who participated in the extension phase of the study completed five years of Cosentyx treatment. 56% of patients on Cosentyx 75mg were escalated to Cosentyx 150 mg after Week 168. Improvements in ASAS 20 and ASAS 40 responses were sustained out to five years in all dosage cohorts. In the dose escalation cohort, ASAS 20 responses improved from 74% for Cosentyx 75mg to 82% for Cosentyx 150 mg after 72 weeks. The safety profile of Cosentyx was shown to be consistent with that previously seen in clinical trials across multiple indications.
References:
Baraliakos X et al. Long-term Evaluation of Secukinumab in Ankylosing Spondylitis: 5 Year Efficacy and Safety Results from a Phase 3 Trial. Presented as a late-breaking abstract at the American College of Rheumatology Annual Meeting, 2018.
Baraliakos X et al: Long-term efficacy and safety of secukinumab 150 mg in ankylosing spondylitis: 5-year results from the phase III Measure 1 extension study. RMD Open 2019;5:e001005.doi:10.1136/rmdopen-2019-001005: