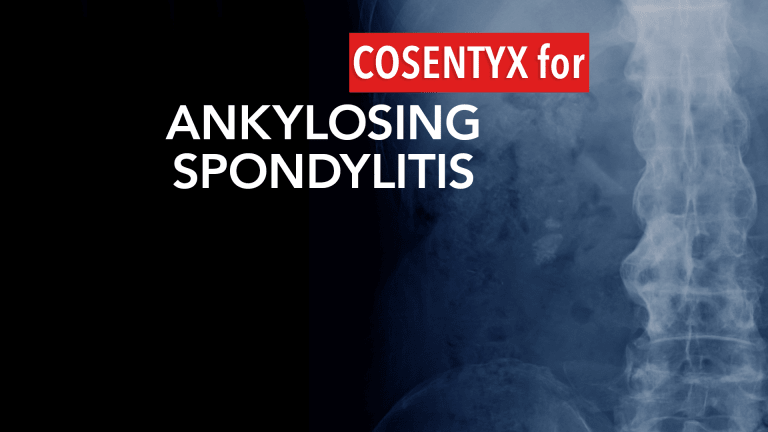 Cosentyx is Effective Therapy for Active Ankylsoing Spondylitis
MEASURE 3 study reports Cosentyx very effective treatment for Ankylosing Sondylitis
By Dr. David Borenstein, M.D. Updated 09/21
Cosentyx (secukinumab) is an anti-interleukin 17 monoclonal antibody that decreases the effect of that cytokine on the immune system in patients with ankylosing spondylitis (AS). The question of an optimum dose of medicine with significantly increasing toxicity is a question faced by clinicians who care for patients with active disease. The MEASURE 3 study was undertaken to determine if there was a difference in benefit and risk in AS patients who received 300 mg or 150 mg subcutaneously every 4 weeks.
A total of 226 patients receive intravenous Cosentyx for the first 4 weeks then 150 mg or 300 mg subcutaneously every 4 weeks. The primary endpoint of the study was a level of 20% improvement in functional factors (ASAS 20) at 16 weeks. Study subjects continued on therapy and were re-evaluated at 52 weeks.
Of the 226 patients entered into the study, 222 completed the 16 week trial period. The ASA 20 improvement rate was 60.5% for 300 mg, 58.1% for 150 mg, and 36.8% for placebo. At week 52, 199 patients completed the study with ASAS 20 68.4% with 300 mg, and 58.1% with 150mg. The number of side effects were similar for both groups with 4.8% of patients with serious side effects (infections) in the Cosentyx and placebo groups.
The conclusion of the authors is that Cosentyx is an effective biologic treatment for AS whether given intravenously or subcutaneously at 150 mg or 300 mg dose level. A higher dose produced a slight higher response which was not statistically significant.
Treating Autism: How Omega-3 Fish Oil Helps
Reduced social contact and the performance of repetitive activities are two behavioral traits that are altered in the neurodevelopmental condition known as an autism spectrum disorder (ASD).
Reference:
Pavelka K et al. Efficacy,safety and tolerability of Cosentyx in patients with ankylosing spondylitis:a randomized,double-blind phase 3 study, MEASURE 3.Arthritis Res Ther 2017;19L285)