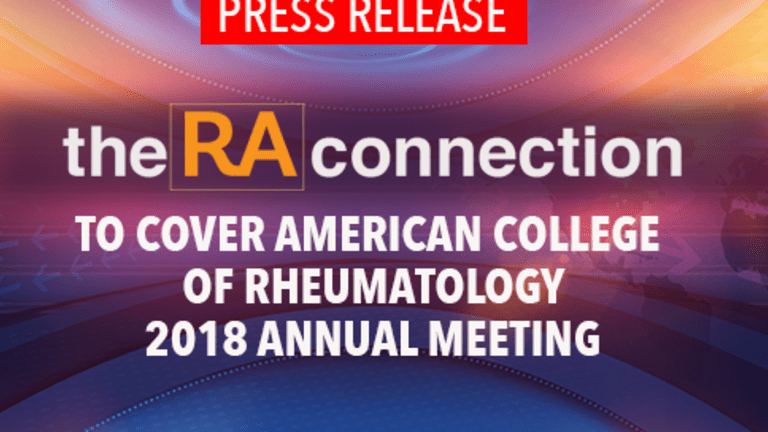 Complete American College of Rheumatology Meeting Coverage from theRAConnection
Learn the key developments presented at ACR for RA, AS, PsA, SLE, and other inflammatory and bone and joint conditions
Complete American College of Rheumatology Meeting Coverage from theRAConnection & Women Magazine
KETCHUM ID, SEATTLE, Oct 17, 2018 TheRAConnection, a specialty publisher of health information, specifically for patients with rheumatoid arthritis, psoriatic arthritis, osteoporosis, osteoarthritis, ankylosing spondylitis and lupus is pleased to announce that its editors will be attending the Annual Meeting of the American College of Rheumatology (ACR) in Chicago, IL and will be publishing daily "breaking news" from the meeting. Meeting highlights will additionally appear in Women Magazine.
About the Rheumatoid & Arthritis Connection:theRAConnection
The Rheumatoid & Arthritis Connection combines valuable information about diagnosis, treatment, healthy living, support resources and breaking news, along with a social community created to provide patients and caregivers the opportunity to connect with others affected by rheumatoid and arthritis conditions.
Patients Seek Online Support, Validation & Information-theRAConnection is a fully-moderated online support community and rich information resource, providing patients and caregivers a trusted destination to learn about the management of their condition, and a community where patients both derive and provide support.
TheRAConnection is part of the Maven Health Network (mavendoctors.io), an integrated group of channels focused on health, nutrition, and fitness as well as contemporary and alternative medicine. Maven is estimated to have 50 million monthly visitors.
Maven Health continues to expand.  In addition to theRAConnection, CancerConnect recently completed migration to Maven and theSpineCommunity with Dr David Borenstein is scheduled to go live in 2 weeks.  OMNI Health Media has migrated several of its leading educational resources and communities to Maven, and is in active discussion with other health verticals to join the network. They are:
TheSpineCommunity (Coming Soon)
TheGIConnection (Coming Soon)
Working with Maven, OMNI will continue building the network by recruiting and partnering with mavens in more than 40 common health conditions, creating stronger resources and communities around medical interests and conditions.
Treating Autism: How Omega-3 Fish Oil Helps
Reduced social contact and the performance of repetitive activities are two behavioral traits that are altered in the neurodevelopmental condition known as an autism spectrum disorder (ASD).
About Maven
Maven is a coalition of mavens operating on a shared digital publishing, advertising and distribution platform, unified under a single media brand. Based in Seattle, Maven is publicly traded under the ticker symbol MVEN.
Maven (noun | ma·ven | ˈmā-vən): A professional, authentic authority, evangelist and recognized community leader for a specific topic, cause or organization.
About OMNI Health Media
OMNI Health Media (OMNI) is a leading specialty Website and Application developer and publisher of consumer health information. OMNI has developed CancerConnect, theGIConnection, theRAConnection, and theSpineCommunity. These social communities can be accessed directly or used by gastroenterologists, oncologists, and rheumatologists to provide support and build community on their websites for their patients in a safe, secure, moderated environment. OMNI Health Media also produces and manages Women magazine.
Originally established in 1997 as a cancer patient education resource, OMNI has consistently expanded its platform by integrating technologic advances with its health information content, applications and services. OMNI has been recognized for producing award-winning, multi-media content which reaches over 1.5 million health information seekers every month.
About Women: Total Health & Wellness Magazine
Women magazine is a premier total health and wellness magazine covering issues important to women, including regular features on arthritis, cancer, bone health, GI health, and heart health, as well as columns and tips covering nutrition, exercise, and emotional well-being. Women empowers readers to take charge of their health and recognizes the unique role women play in fostering the overall health of their families and friends.
Women magazine is available in all Rheumatology, Oncology, and Women's Health clinics, in leading retail outlets and as a benefit of membership to Rheumatology Nursing Society members.
Contact chweaver@OMNIhealthmedia.com